BY MARIELLE D. MARNE | MARCH 6, 2013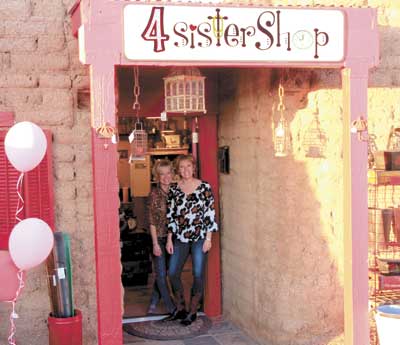 CAVE CREEK – It's the fortunate person who can turn a passion into a livelihood, and 4sisterShop has done just that to the benefit of its neighbors. And yes, there are in fact four sisters - Diana Stanley, Donna Morris, Doris Geith, Linda Gundy - who grew up in west Phoenix, and they love to shop.

Initially, 4sisterShop commenced online at 4sistershop.com, but there has been the long-held dream of a retail store. As of Feb. 1, it came to fruition at 6220 E. Cave Creek Rd. You can browse the website first, but it's much more fun to visit – see and touch – all the unique items they have, many one-of-a-kind.

Note that Diana, the sis you most often find in the store, crafts the crosses. On them you may find adornments from Italy or stones from Shanghai. (Check out the jewelry from Shanghai, too!) They are firm believers in repurposing and have fashioned nifty tables from "steamer" trunks and stacked luggage. The ingenuity you'll find is endless.

Customers proffer lots of positive comments: "We're so glad you're here. You're so different!" Even prices receive a thumbs-up, "The prices are really great."

While there are antique windows, retired European shutters and vintage soda crates, which are quite popular, 4sisterShop has new, too! They make it a true treasure hunt and ferret out the fascinating, the unusual, the just-gotta-spoil-yourself home accents and gifts. With Mother's Day not far off, stop in for a present that will please! Inventory is ever-changing, so visit often. At 4sisterShop, Donna said they strive to make anyone who stops in feel welcome.

Closed Mon., 4sisterShop is open 10-5 Tues.-Sat. and 12-4 on Sundays. Phone 602-330-6042 for details.