BY LINDA BENTLEY | FEBRUARY 27, 2013
Financial presentation turns into game of 'gotcha'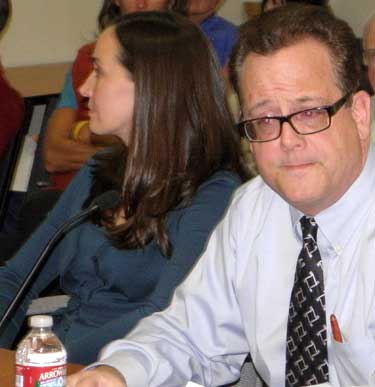 Utilities Manager Jessica Marlow and Finance Director Robert Weddigen were well prepared to answer questions lobbed at them by those wishing to unseat the entire town council.
Photo by Linda Bentley



CAVE CREEK – With Councilman Dick Esser absent due to illness and Mayor Vincent Francia delayed at work, Vice Mayor Ernie Bunch took over the reins for the Feb. 19 town council meeting, which consisted of a financial presentation by Finance Director Robert Weddigen and Utilities Manager Jessica Marlow.

During Call to the Public, Charles Spitzer advised council that people had been asking him about the ballot measure regarding the APS franchise and he wanted to be able to refer people to the town's website for more information but no information was posted.

David Phelps said he had a housekeeping item for the minutes from the previous council meeting.

He questioned statements made by council members regarding the town having a $3.4 million surplus on Dec. 31.

Since a debt payment was made, Phelps claimed the town only had a $2.4 million surplus.

He said, "We don't have $3.4 million. We didn't have it the day you said it and we don't have it today."

Phelps then stated the town's debt wasn't $62 million or $60 million and said, "We're $63 million in debt."

Town Clerk Carrie Dyrek said she would review the recording to determine what was said and council voted to continue the approval of the minutes to the next meeting.

Adam Trenk publicly chastised Sonoran News Publisher/Editor Don Sorchych for an editorial and said he takes the allegations made by Sorchych seriously.

However, it was interesting to note Trenk never refuted the allegations or claimed they were false.

Trenk is one of the candidates supported by Mike Chutz, who is not registered to vote in Cave Creek but is chairman of a political action committee in favor of a slate of candidates seeking to replace the current town council.

After telling council its leadership style is to "sit on their hands and do nothing," Trenk said, "It would be nice to know each of you have a moral compass."

Mike Durkin, another slate candidate supported by Chutz, holding up a March 2010 Maricopa County Operation and Inspection Report for the town's wastewater treatment facility, said two citizens had made requests to the town asking how the county mandated the town build a new sewage treatment plant.

Marlow, responding to a question by Councilwoman Shelley Anderson, said the cost to run the new wastewater plant is less than half of what it cost to run the old plant.

She said the town budgets $234,000 per year to make capital improvements and lowering water rates by 5 percent wouldn't leave enough money for needed improvements.

Weddigen explained that low density makes the cost of delivering services high and said the debt is scheduled to be paid off somewhere around 2030-2032.

Marlow provided a comparison of the water and sewer costs for a residential one-inch meter based on 10,000 gallons of water for Carefree, Anthem, where she lives, and Cave Creek.

Cave Creek came in the lowest at $129.50, with Carefree second at $138.27 and Anthem highest at $178.54.

When David Smith asked if Cafree and Anthem had an "up front" (base) fee of $600 ($50 per month), Marlow stated both Carefree and Anthem had higher base fees.

Chutz grilled Weddigen on the town's projected revenues versus expenditures.

Weddigen said it was approximately $3 million, or $6 million before the June 30 debt service payment.

Chutz stated the town was spending 5 percent on capital improvements and said, "No business would do that."

Spitzer, another one of Chutz's slate candidates, said the five-year plan was in the negative and asked if that had been pushed out.

Marlow said it had and the town did not anticipate a rate increase.

She also said the town had not been advised of any increased costs for electricity.

At some point in time, Bunch, who was asked to continue chairing the meeting after the mayor arrived, asked those who wished to speak not to keep rephrasing questions so as to play "gotcha."

Terry Zerkle asked when the water master plan was adopted.

Marlow said it was revised by CH2MHill in 2008 and adopted by council in either 2008 or 2009.

Zerkle asked council if it knew when it was adopted.

Town Manager Usama Abujbarah confirmed Marlow's response but said he didn't know the exact date.

Francia, who had since arrived at the meeting, said he recalls council adopting the plan but also didn't remember the exact date but it was something the town could look up.

Zerkle then said, "I can tell you the exact date. It was April 16, 2007."

Town Attorney Marlene Pontrelli called for a point of order, noting the agenda item was a presentation and questions were being answered as a courtesy and should not become a dialogue.

Phelps, who is treasurer of Chutz's political action committee, said the problem residents have is not the first 1,000 gallons of water but with the first glass of water.

He then asked council how much they thought it would cost to get rid of the sewer smell on San Souci hill.

Trenk returned to podium to clarify the $234,000 budgeted for capital improvements.

Just before adjourning, Councilman Steve LaMar thanked Weddigen for his presentation.