BY LINDA BENTLEY | FEBRUARY 27, 2013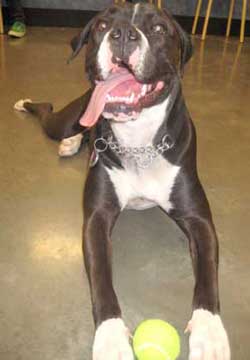 CAVE CREEK – Sonoran News printed a lost dog article in the Feb. 6 edition after learning Luke and Danielle's family dog, a nearly 4 year-old Boxer mix named Daisy, became lost near Bartlett Lake.

According to Luke's mother Connie, Luke was hiking with Daisy and a friend near Bartlett Lake on Jan. 21 when he suddenly noticed Daisy was no longer following them.

They searched into the night to no avail and finally went home. The next day they put up flyers and posters and notified the Tonto National Forest Ranger Station at the Bartlett Lake turnoff.

Ten days after Daisy disappeared, the rangers called to say they spotted her but Daisy wouldn't let anyone get near her and would run off. But since the family lives 50 miles away in Phoenix they couldn't get there in a timely manner.

Approximately three weeks later, rangers called to say they spotted Daisy again and said she was showing up on their security cameras.

So the family brought out articles of clothing, Daisy's dog bed and toys, hoping their scent would lure Daisy to the area.

They also contacted an animal rescue organization, which brought out a trap to try to catch Daisy.

But, according to Connie, Daisy outsmarted the trap and was able to snag the food without getting trapped.

On day 26, Connie and her husband drove out only to find Daisy sleeping on her bed. However, being skittish around people that are not her family, Daisy took off when she saw them.

Connie said they followed some friendly advice, drove out again with a camper stove and fried up some bacon to lure Daisy to them.

But Daisy would run off when anyone got close.

The following day, day 27, Connie and Danielle found Daisy sleeping on her bed again.

This time Danielle started talking to Daisy, who was still a bit standoffish, about playing ball and other things.

Daisy finally realized who Danielle was and ran over to her where they had one tearful, slobber fest of a reunion.

Connie said the family is grateful to everyone who became involved to help get Daisy back home.

A visit to the vet found Daisy in good shape except for being somewhat emaciated from spending four weeks in the wild.