FEBRUARY 27, 2013
The Ricochet Radio Ranglers return to the Golden Age of Radio
Picture this: A film crew is shooting in Carefree and Cave Creek. The guest star gets lost and can't find the filming location. Consequently, "stand-ins" are used to fill his part opposite lovely leading lady Lola Frijoles. And that's when things go a little bit crazy! Before you know it, innocent bystanders (you?) are involved. Commercials from Brylcreem and Burma-Shave are sure signs that you've been returned to the Golden Age of Radio with the Ricochet Radio Ranglers at the Carefree Kiwanis annual "Western Night" at the Carefree Inn Opera House.

The one-of-a-kind Wild West show, with three seasoned actors and one zany soundman, has all the pratfalls, hijinks and action of radio in the era before television, when audiences lined up around the block to watch radio show broadcasts being produced "live."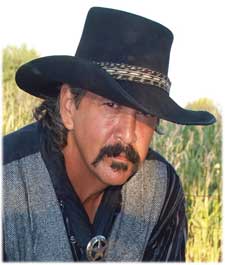 The cowboy behind all this humorous mayhem is Dr. Buck Montgomery (l). While behind a desk at the Disney animation studio, Dr. Buck, a former bulldogger in the California rodeo circuit, thought he'd pick up a few extra bucks as a stuntman. It paid off with 40 years of work in films and TV, like The Sacketts, The Long Riders, Pale Rider, and Back to the Future, Part III.

Bob Boze Bell's True West Magazine voted Dr. Buck's Wild Western Festival "Best of the West Wild West Show 2013." He brings stars of that cast of characters to Carefree Kiwanis "Western Night."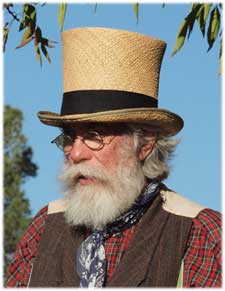 Andrew "Sourdoh" Moore (r) is a seasoned Western actor with a vast array of theatrical credits, including John Wayne's classic, The Searchers, and his own TV show in San Francisco.

Former Rodeo Bull Rider and Fire Fighter Jeff "Shorty" McCarroll (below), has a gift for creating unusual characters, bringing comedic life to a multitude of personas. The Rangler's "Professor Noise" is Rick "Lightinin'" Wyckoff, creating visuals and mood with sound effects. Lightinin' is said to have an uncanny resemblance to Wild Bill Hickok, if Hickok traveled with coconut shell halves clip-clopping.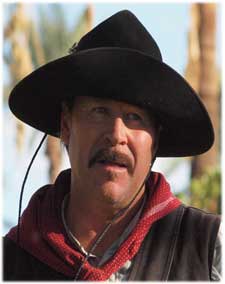 "Western Night" kicks off with cocktails at the No-Host bar from 5 – 6 p.m. The Opera House doors open at 6 p.m. for the Gourmet Cowboy Dinner and Ricochet Radio Ranglers show. What's a Gourmet Cowboy Dinner? It starts with a salad of mixed greens, roasted red peppers, corn, jack cheese, and, wow, deep fried cactus with smoked tomato vinaigrette dressing; honey butter biscuits and hatch valley chile cornbread; grilled breast of chicken, BBQ brisket of beef and BBQ pulled pork; grilled vegetables; baked potatoes with all the yummy fixin's; concluding with New York style cheese cake with raspberry coulis or apple cobbler for dessert.

It's a good thing Dr. Buck doesn't have to do any serious wrangling after a great meal like that! "Western Night" Tickets are $50, available through Committee Chairperson Ralph Spurgin at 480-595-8685. The Carefree Inn Opera House is located at Carefree Resort & Conference Center, 37220 Mule Train Road, Carefree.