FEBRUARY 20, 2013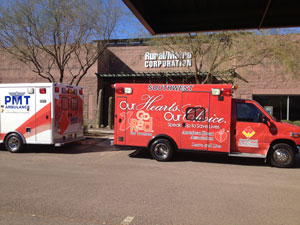 MESA – The color red is everywhere during the month of February from flowers to cards and anything heart-shaped. But maybe the most exciting use of red during February is the American Heart Association's Go Red for Women little red dress, this time with a new twist.

Southwest Ambulance and PMT Ambulance, both part of the Rural/Metro family of companies, are outfitting ambulances in American Heart Association's little red dress and important women's heart health information.

"We are delighted to collaborate with Rural/Metro on this creative approach to raising awareness about women's heart disease in communities throughout central Arizona," said Kelly Grose, Senior Vice President of the Greater Phoenix Division of the American Heart Association. "Having this level of support and exposure truly helps advance our mission."

The three ambulances, covered from roof to rim in a custom American Heart Association design, will transport patients and be seen at events throughout both Maricopa and Pinal counties over the next few years.

"Go Red for Woman promotes such important messages for women and the prevention of heart disease," said Maureen Thompson, Senior Vice President of Human Resources and American Heart Association Board Member. "With Rural/Metro's focus on clinical excellence, national standards for emergency care of cardiac cases and the importance of knowing CPR, it made perfect sense for us to use our ambulances to show our support in the fight against heart disease."

Heart disease is the number one killer of women in America and Arizona. The symptoms are different in women than men and often misunderstood. This prompted the American Heart Association to seriously tackle this issue and raise awareness.

As the 2013 Go Red For Women Chair, Jeri Jones, President & CEO UHC, Arizona, Utah & Idaho Markets, stated, "seeing the support of Rural/Metro in wrapping these ambulances will have a tremendous impact on raising the awareness of heart disease. Millions of people across the Greater Phoenix area will see the message of Go Red encouraging them to know the risks of heart disease and to make healthy changes in their lives"

Southwest Ambulance and PMT Ambulance serve nearly 30 communities in Central Arizona with 9-1-1 emergency and non-emergency medical transportations to hundreds of thousands of Arizonians every year.

Learn more about Southwest Ambulance at www.southwestambulance.com, PMT Ambulance at www.pmtambulance.com, and the American Heart Association at www.heart.org.