FEBRUARY 6, 2013
Lost Dog

Our very much loved family dog wandered off at Bartlett Lake on Monday, Jan 21. Her name is Daisy and she has a great temperament.

** Reward **

PLEASE call or text Luke at 602-803-4162 or Danielle at 602-541-1643 if you find or see Daisy.

BY JOHANNA DEKING, DVM | FEBRUARY 6, 2013
My pet valentine – How to build a loving bond with your pet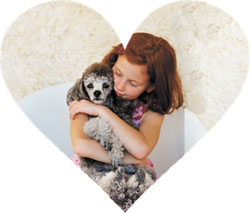 With Valentine's Day fast approaching, we're beginning to plan how to show the special people in our lives how much we care about them. Romantic dinners with that special someone, heart shaped boxes of chocolate, sweet and indulgent desserts, and weekend getaways are all ways that we show our love for those close to us.

While we plan ways to surprise our significant others and buy cute heart-shaped treats for the kids, be sure not to forget that furry special someone in your life this Valentine's Day too.
Our pets should certainly not be receiving chocolates or making themselves part of that perfect Valentine's steak dinner. However, show them how special they are to you by spending some extra time doing their favorite activities this month. Spend time hiking with your dog or playing with the laser pointer with the cat. If your dogs love snow like mine do, maybe a day trip up north for some play time in the powder is in order. They all love a good belly rub, scratch behind the ears, or an extra snuggle. That little extra attention will go a long way in strengthening the special bond you share with your pet.

This is a good time to think about your pet's medical care as well and show them how much you care by getting their vaccines updated and having them examined by their doctor every six months. If you've been thinking about getting their teeth cleaned, February is pet dental health month and would be a great time to get that taken care of. It will make their breath better too when they give you those big sloppy adoring kisses. Also, if you spend a lot of time outdoors with the dog, snake season is right around the corner and it's a great time to think about having the dog snake-avoidance trained to prevent that unfortunate rattlesnake bite this spring.

Our pets will always love us more than they love themselves. They are always up for anything, whether it's some outside time on a sunny afternoon or curling up with a book on a night in. They are always content just to spend time close to their beloved person. Take your Valentine's Day plans and extend them this year to include the four-legged loved ones in your life. Whether it's by doing some extra pet-friendly activities or having your pet's health checked and updated, these little things will go a long ways in making a big difference in your pet's health, longevity and in strengthening the special bond that you share.

If you would like more information please visit www.ahsvet.com.