BY MARIELLE D. MARNE | FEBRUARY 6, 2013
Keystone Homes: Constructive genius behind Rancho Madera at Black Mountain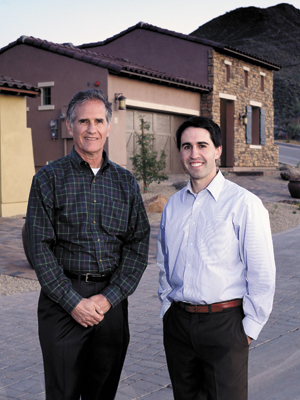 Rich Eneim, Sr. and his son, Rich, Jr., of Keystone Homes, pictured in front of a few of the newly built Rancho Madera abodes.


CAVE CREEK – There's a reason half of the 46 homes are sold out in the Rancho Madera community. Actually, there are many. Simply put, they're fabulous. And, they are constructed by Keystone Homes, a family run company that has been building for 23 years. "We've built over 500 homes in that time," offered Rich Eneim, Sr. (He and his son Rich, Jr. work together.)

The homes are incredibly efficient, with an option to be more so if solar electric is added. There are three models, from 1756 to 2306 sf, one a two-story, with the master bedroom downstairs. The residents tend to be folks who are downsizing and want simplicity. "It's a unique community of patio homes, where you can walk to restaurants and shops," Eneim explained. Additionally, they are excellent second homes or investment properties, ranging from low to mid $300,000s.

HOA dues take care of front landscape and allow access to the heated pool, workout room and clubhouse with a greatroom, flat-screen TV, billiards table and kitchenette. "It's like being at a resort," the Eneins concurred.

Currently, there are sites where buyers still have time to pick their decor - floors, cabinets, granite. There are also homes available where occupancy can be taken the next week. A favorable aspect of working with a smaller builder is they don't mind changes. Have a special feature from a former house you love? When possible, Keystone Homes can integrate it. And they won't even balk at the request!

Tour the neighborhood online at ranchomaderavillas.com, then once you're duly impressed, call 480-422-0655 to see the two models firsthand at 6231 E. Mark Way. You can like them on Facebook for any construction updates.