BY MARIELLE D. MARNE | FEBRUARY 6, 2013
Wrinkles run, fine lines cower under microcurrent wand wielded by Blink and Be Beautiful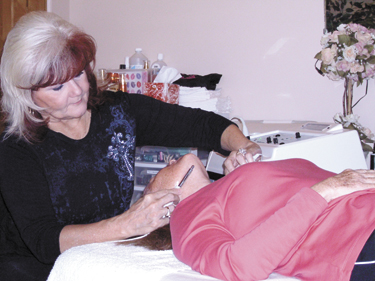 CAVE CREEK - Lots of women (and men, too!) are finding in virtually the blink of an eye, they can enhance their beauty. Many may already know certified technician Connie Eskelson, of Blink and Be Beautiful, offers permanent makeup as well as professionally applied makeup for weddings, proms, photo opportunities and the like, but as of June 2012, she added microcurrent technology to her arsenal of fighting the lines, wrinkles and sagging that come with aging.

In a single 45-minute session, results are evident. Skin is less dry, has a healthy glow and it's fuller, due to the collagen being plumped up, and genuinely younger looking. The procedure is quite relaxing, so not only do you walk out looking more youthful, you also get to enjoy a little me-time coupled with Eskelson's friendly and informative conversation. She lets clients know what to expect and checks with them often to assure they are comfortable.

Unlike a facelift, there's no downtime with microcurrent sessions, but it works wonders. The only immediate follow-up is to stay hydrated by drinking lots of water. The next day, skin is touchably soft. There's a reason this treatment continues to grow in popularity, and it's not just for the rich and famous! Truly, take advantage of this affordable, convenient and state-of-the-art technique.

Of course, you'll want to maintain your newly revived youthfulness, so be sure to ask Eskelson about her Arbonne products. Not only are they highly effective, but they are organic, chemical-free and less costly than department store brands.

To see what Connie Eskelson of Blink and be Beautiful/Beautiful Image Facial & Body Sculpting can do for you, phone 602-743-7309 or visit blinkandbebeautiful.com.


Photo by Marielle D. Marne: Blink and Be Beautiful's Connie Eskelson uses microcurrent therapy on Linda Springer. In only a few sessions, Springer is delighted with the results.