JANUARY 23, 2013
Community Briefs
Waste Management Phoenix Open takes place Jan. 28-Feb. 3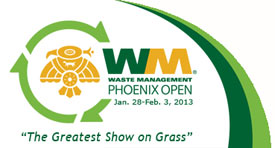 The Waste Management Phoenix Open takes place Jan. 28 through Feb. 3 at the beautiful Tournament Players Club of Scottsdale, 17020 N. Hayden Road. Find out why this tournament boasts the largest galleries in golf and has earned the nickname "The Greatest Show on Grass." Call 602-870-0163 for details or visit wastemanagementphoenixopen.com.

On a related note: Be a "Recycling Ambassador" during Waste Management Phoenix Open
Help Keep Scottsdale Beautiful and educate citizens about our environment by being a Recycling Ambassador at this year's Waste Management Phoenix Open. As a volunteer ambassador, you'll provide assistance to attendees on what goes in various recycling containers. No getting your hands dirty . and your volunteer time will be rewarded with a free ticket to attend the Open on another day! For more information about the event and the Recycling Ambassador program, visit wastemanagementphoenixopen.com. To register as an ambassador, visit www.surveymonkey.com/s/8CZJ9PM.
Need to "re-home" your handbag?
Need to "re-home" your handbag? Have a friend who needs to "re-home" theirs? AGN needs 'em!! Please consider donating your gently used designer handbags to Animal Guardian Network's gift boutique. All the proceeds from the sales go to support their programs.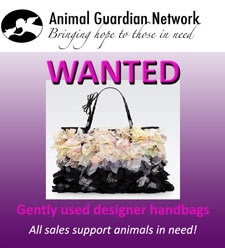 Handbags can be sent to:
Animal Guardian Network
4815 E. Carefree Hwy.
Ste. 108-504
Cave Creek, AZ 85331

Please include the value, donor name and mailing address so they can mail you out a donation receipt and a great big thank you!!!

ANIMAL GUARDIAN NETWORK
Shiba Inu Rescue and Rehab
A 501(c)(3) charity bringing hope to those in need
www.ANIMALGUARDIANNETWORK.org
3rd Annual Relay for Life

The Relay for Life is a celebration for cancer survivors, remembrance for those we have lost and hope for the future. It's about raising money for research and programs for the American Cancer Society. So bring your family, friends, co-workers and neighbors. Relay for Life will be held on Saturday, April 20, 2013.

Four hundred people took part in last year's event at Cactus Shadows High School in Cave Creek. The teams take turns walking, jogging or running laps on the track from 6 p.m. to 6 a.m. the next morning. Each team tries to keep at least one member on the track at all times. The registration fee is $50 per team and you can register online at: www.relayforlife.org/cavecreekaz.