BY LINDA BENTLEY | JANUARY 9, 2013
Skinner acknowledged the nation's powerful gun lobby has made passage of such bills an uphill struggle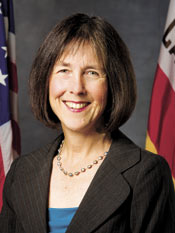 OAKLAND, Calf. – Assemblymember Nancy Skinner, D-Berkeley, held a press conference last week on the first day Alameda County students returned to class from the Christmas break, to introduce Assembly Bill 48, which aims to regulate the sales of ammunition in much the same way California, which has some of the most restrictive gun laws in the nation, regulates gun sales.

The press conference began with a moment of silence led by True Vine Ministries Pastor Zachary E. Carey to pay respect to the 26 victims of the Sandy Hook Elementary School shooting in Newtown, Conn.

Carey pointed out there had been 559 homicides in Oakland during the past five years, and nearly 2,700 over the past 25 years.

He said, "This is out of control," and called AB 48 "the first step to change California and to change the nation."

Skinner said, "AB 48 aims to restrict the bullets that are ravaging our communities. Tragic but true, it is easier to buy ammo than to buy cold medicine, alcohol or tobacco. It's time for buying deadly bullets to fall under the same controls as guns and Sudafed."

The bill's co-author, Assemblymember Rob Bonta, D-Alameda, said, "The tragic and far too common incidents of gun violence in Oakland, including those that took the lives of 12 of our children in the past year, underscore the need for lawmakers to tighten ammunition oversight to protect communities throughout California."

In support of the proposed legislation, Emeryville Police Chief Ken James, who also serves as the chair of the California Police Chief's Association Firearms Committee, stated, "Like pseudoephedrine is the precursor to methamphetamine, bullets are the precursor to gun violence. If we can control the precursors, we may avert tragedies like the ones at Oikos University in Oakland, Aurora and Newtown."

If passed, AB 48 will:
• Require ammunition sellers to be licensed,
• Require ammunition purchasers to show identification,
• Require ammunition sellers to report all ammunition sales to the Department of Justice,
• Require Department of Justice to create a registry of ammunition purchases, which shall be available to all law enforcement agencies,
• Require the Department of Justice to notify law enforcement of large quantity ammo purchases, and
• Ban the kits that convert ammo feeding devices into high-capacity magazines.

Skinner went on to say, "With rights come responsibilities. While the Second Amendment gives each of us the right to bear arms it also says clearly that such rights can and should be well regulated."

Actually, the Second Amendment says quite the opposite.

The Second Amendment states: "A well regulated militia, being necessary to the security of a free state, the right of the people to keep and bear arms, shall not be infringed."

Oakland Mayor Jean Quan, Oakland City Councilmember Rebecca Kaplan, United Teachers of Richmond President Diane Brown, additional city and school officials as well as youth, community and faith leaders also voiced their support for AB 48.

According to independent news site Berkeleyside, representatives from the city of Berkeley, whether from its school district or police department, were conspicuous in their absence from the press conference. Although a staffer in Skinner's office claimed all had been invited, Berkeley Police Department confirmed on Jan.10 they had not in fact been invited to attend.

Last year, Skinner introduced AB 2512, which would have required large ammunition purchases to be reported to local law enforcement and would have closed a loophole in the assault weapons law that allows individuals to own high-capacity magazines.

An attendee said Skinner acknowledged the nation's powerful gun lobby has made passage of such bills an uphill struggle, but she remains confident it is possible to build a broad enough coalition to overcome such opposition.