JANUARY 16, 2013
BY MARIELLE D. MARNE | JANUARY 16, 2013
Ride in style, safety and comfort with Black Mountain Transportation
Attempted to navigate Sky Harbor lately? Tried to make it to Phoenix-Mesa Gateway Airport in time for the crack-of-dawn, one-and-only flight and missed it due to traffic? Enjoy a bottle of wine with your dinner out-on-the-town but afraid of risking a DUI driving home? Those are three of many reasons to contact Black Mountain Transportation. Erskine and Beth Graves founded the company in 2011 after Erskine had driven for another car service and decided he wanted to work for himself.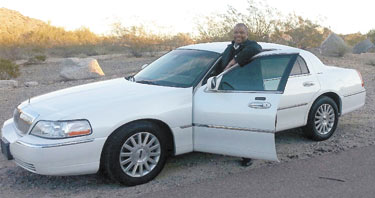 "We primarily go to the airport, but we also do lots of nights on the town," Graves reiterated.

They've developed such a good reputation that the Boulders Resort (and several area restaurants) often recommends their chauffeur services. Of course, lots of repeat clients can attest to the fact that you can count on Black Mountain Transportation to show up on time, be courteous and professional and deliver you safely to your destination.

"We always track flights, so we know if they are late or even early, so people don't need to worry about us sitting there waiting when a flight has been delayed. We also use a GPS, so we can navigate around accidents and assure you don't miss your plane. And we never charge for a meet-and-greet like some companies do. If you have a lot of luggage or maybe can't handle the bags you have by yourself, we'll meet you at baggage claim to help," Graves explained.
Fees are affordable, flat rates to the airport, point-to-point or hourly rates otherwise. For more details visit blackmountaintrans.com.

Now through Valentine's weekend, mention this article and receive 15 percent off one prepaid, round trip transport. (For future specials, like them on Facebook.) Twenty-fours notice required to assure transportation, but often last minute requests can be accommodated.

Vehicles are roomy, reliable, nonsmoking and fit four adults (with driver). Book a ride online 24/7 or by phone at 480-251-6727.