BY ANNIS SCOTT | JANUARY 9, 2013
A musical treat
CAVE CREEK – The 2012 sell-out hit, A Duet! – Arizona Musicfest at the Desert Foothills Library, will return by popular demand on January 19 from 5 – 7 p.m. A Duet is an up-close and personal, informal event filled with conversation and a variety of musical delights. Performing will be Maestro Robert Moody, Kristen Drathman, vocals, Larry Loeber, piano, and Jennifer Chiang, flute.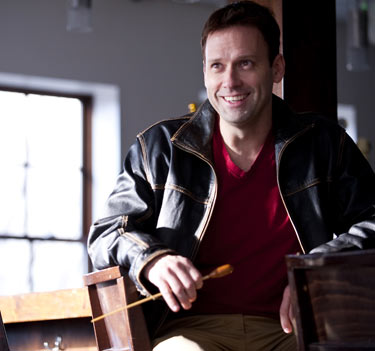 Robert Moody (r) is the Music Director of the Portland, Maine and Winston Salem, North Caolina symphonies and the Artistic Director of Arizona Musicfest, America's Premier Winter Music Festival, held in North Scottsdale, Carefree and Cave Creek; as well as a frequent guest conductor of symphonies across the country. Moody is a dynamic conductor, an accomplished cellist, vocalist, and an engaging speaker.

Kristen Drathman is a multi-talented actor, singer, teacher and concert entertainer who has won numerous AriZoni awards for her performances. Larry Loeber has performed in recital at Town Hall and Carnegie Recital Hall in New York as well as with The Phoenix Symphony and Arizona Musicfest in solo, chamber music and orchestral works. Jennifer Chiang has been the principal flutist of the Arizona West Regional Orchestra and Arizona All-State Orchestra and performed with the Four Seasons Orchestra, Scottsdale Arts Orchestra, and the Chandler Symphony Orchestra.

There will be a reception following the program, where you will join Maestro Moody and the musicians for wine, soft drinks and hors d'oeuvres generously provided by Cibo e Vino and Heavens' Kaffee restaurants. To start the New Year on a happy note, bring a friend to this special program.

Tickets are $30. Call the Arizona Musicfest office at 480-488-0806 and purchase your tickets before the event is sold out. A Duet! will take place at the Desert Foothills Library, located at 38443 N. Schoolhouse Road in Cave Creek.