JANUARY 2, 2013
Obituary
Grace Stokes Schoonover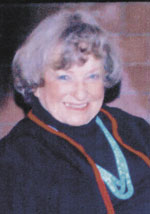 Long time Cave Creek resident Grace Stokes Schoonover, born March 7, 1927, died on Dec. 28, 2012. She was the proud matriarch of four generations of Arizonans. She attended Emerson Elementary School, Phoenix Union High School, Phoenix College and ASU. In 1946 she married Paul Schoonover and they became a dynamic duo. They raised two daughters, Ann Rice and Paula Dalton Scully, and they founded Arizona Air Conditioning and later Paul Schoonover, Inc. Grace served as the financial officer for both companies.

Even as Grace worked full time in the business and raised her daughters, she found time to volunteer with numerous organiza-tions. She was the leader of Girl Scout Troop 404 for 12 years, mentoring many young girls and women. She was in contact with some of these women all of her life, and one recently commented that Grace was a golden part of her childhood. Grace also served on the Arizona Cactus Pine Girl Scout Council.

Grace's artistic gift was centered primarily in abstract watercolors, collages and sculpture based on her love of the southwest and Sonoran Desert. Friends eagerly awaited and enjoyed her annual hand painted Christmas cards.

In 1951 Grace and Paul built a one-room cabin in Cholla Bay, Pto. Penasco, Mexico. Through the years the cabin evolved into a beautiful beach home where they spent much of their time. They were charter members of the Cholla Bay Sportsmens Club, and active during the years the club provided polio vaccine to the children of Pto. Penasco and initiated search and rescue system for lost or disabled boats. They skippered three very fine vessels; Pegala, Esprit and Vaya. Grace was a member of the United States Power Squadron and earned their highest certification as a celestial navigator.

Archeology was Grace's advocation from her high school years forward. She worked on digs throughout Arizona and New Mexico including Snaketown, Mesa Grande, Pueblo Grande, Elden Pueblo and Chaco Canyon. She was a member of many Archaeological organizations including the Desert Foothills Chapter of the Arizona Archaeological Society.

Grace surveyed and recorded most of the archeology in the Desert Foothills area and was a valuable asset to anyone wanting to know about the prehistory and rock art located there. She was eager to share her knowledge and taught many classes on the subject. Grace wrote a book on the rock art of the Arrastre Creek sites on Table Mesa.

She was an active member of the American Rock Art Research Association; she received their "On The Rocks" award in 1991 for 3,000 hours of rock art recordation. Grace served on the board of the Deer Valley Rock Art Center.

Grace and Paul explored, documented and photographed many of the cave rock art sites in Baja California only accessible by long mule rides. Grace was one of the forces behind the preservation of Spur Cross Ranch Conservation area, which includes The Jewel of the Creek and a petroglyph site named "Schoonover Rock."

Grace received numerous awards during her lifetime for her work in Archeology and conservation. They included the "Quail" award from Foothills Community Foundation in 2001; the Victor R. Stoner award from the Arizona Archaeological and Historical Society in 1996; and the Arizona Archaeological Society Award in Advocacy Archeology in 2004.

Family was actually Grace's dearest gift. Her life with Paul was filled with love and adventure. Her daughters, Ann Rice and Paula Dalton Scully, will tell you she was always available with help, advice and humor. She enjoyed an active role in the lives of her grandchildren Dr. Brady Dalton, Genevieve Helen Dalton, Abby Lynn Rice and Michael Paul Rice, and was just as involved with the "Greats" Stephen Dalton Steffen, Kody Michael Rice-Young and Jillann Grace Rice Young.

Grace leaves a legacy that will long be enjoyed by those who visit Spur Cross Ranch and the rock art and prehistoric sites in the Desert Foothills area. Each member of the family will always know they were loved and cherished by this very special woman.

A Celebration of Life will be held at 1 p.m. on Jan. 12, 2013, at the Foothills Community Foundation at 34308 N. 60th St, Scottsdale, AZ. In lieu of flowers the family suggests donations to the Desert Foothills Land Trust, PO Box 4861 or the Cave Creek Museum, PO Box 1, both in Cave Creek, AZ 85327.