My View
BY DON SORCHYCH | JANUARY 2, 2013
Ray Vega, R.I.P.
Raymond J. Vega, 88, of 220 Tinley Ave., DePue died at 4:43 p.m. Dec. 22, 2012, in St. Margaret's Hospital, Spring Valley.

Services will be at 6:45 p.m. Friday in Barto Funeral Home, Spring Valley. Deacon John Murphy will officiate. Burial will be at a later date at DePue Cemetery.

Visitation will be 4-6:45 p.m. Friday in the funeral home.

Mr. Vega was born Sept. 3, 1924, in DePue to Jose and Ramona (Garcia) Vega. He married Alberta Smudzinski on May 14, 1955, in La Salle.

Vega served in the U.S. Navy during World War II in the Atlantic fleet aboard the USS Guadalcanal. He was part of the task force that captured the German submarine U-505, which is on display at the Museum of Science and Industry, Chicago. He was awarded the European-African-Middle Eastern Campaign Medal and two Bronze Stars.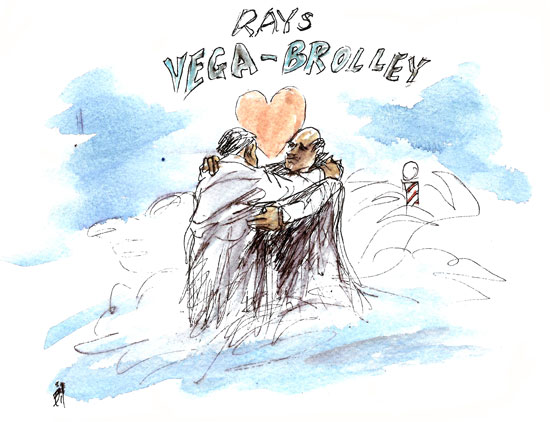 He worked for the state of Illinois as an inspector, operated his own barber shop in DePue and was the chief of police in DePue. He was a member of DePue Booster Club, DePue VFW and DePue Democrat Club and had been a DePue Unit School Board member.

Survivors included his wife, Alberta Vega of DePue; three daughters, Carol (Jeff) Campbell of DePue, Cathy (Tom) Prey of Oglesby and Christine (Craig) Snyder of Ottawa; 10 grandchildren; and one great-grandchild.

He was preceded in death by one son, Joseph; two brothers and one sister.

Honorary pallbearers will be Matthew, Brett and Scott Campbell, Michael and Joe Vega, and T.J. and Joe Prey.

In lieu of flowers, memorials may be directed to St. Margaret's hospice.

The above obituary appeared in a number of area Illinois locations. I had heard about Ray's passing from my sister Jeane who lives in Wisconsin.

I first knew Ray when he came home on leave from the Navy. Ray was a twin and his brother Chris died years ago.

I was impressed as a teenager when Ray, in uniform, decked a guy sitting on a car fender in front of Bob Maran's tavern for rants that the man reveled in. The ranter, last I heard, was a county commissioner. Ray's relative came out of the tavern and asked if he had to watch him every minute. Strike now, ask questions later, probably stood him in good stead years later when he became the town marshal.

Ray was a tall handsome guy and one of the funniest men you would ever meet. He also was quite a raconteur.

He bought his barber shop from Frank Kamocheck. Ray's favorite story was one that delighted me every time I heard it since it involved our much maligned and prissy school principal whose last name was Stutz.

Apparently Stutz sat down to get his hair cut and after bundling him with covering cloth, Franks asked, "Stutz, how is your wife for sex?" Except Frank didn't say sex; he used the four letter word. Stutz stiffened and said frostily, "I don't discuss such matters!" Franks said, "Why not? I can tell you my wife isn't worth a shit." With that Stutz tore off the sheet and stormed out the door.

Ray was an excellent barber, but quite independent and left some patrons scratching their heads. For example, when a hair cut was half through, he would leave and go down to Joe Garcia's pool hall and get a cup of coffee leaving his client wondering what he hell was going on.

When my growing up friend, Billy Rettko, came in for a haircut after joining the Marines, Ray shaved him bald telling him that the Marines would do it if he didn't.

Ray's barber shop was a hangout and many came just to listen to his stories. His humor was contagious and he loved to tease Ray Brolley, our mutual friend who died a couple of years ago. As bright as he was, Brolley was susceptible to Ray's taunts.

Ray, on the other hand, saw through every attempt to pull his leg. I once called him when he was town marshal and put on my best Mexican accent (which always fooled Brolley) telling him I was Jesus Moreno, had returned to town, and was going up to the Four Corners and shoot the place up because they had once insulted me. Ray said, "That's the boy, go shoot 'em up and good luck." Click.

You will notice in Ray's obit that he was a state inspector of weights & measures. Much to my chagrin he was a devoted Democrat and a Democrat precinct committeeman (Mike Leonard) who got him the job later became my father-in-law.

I remember gritting my teeth whenever I went to the Leonard house because in the hallway leading to the kitchen there were photographs on the wall of not only FDR but John Kennedy as well.

When Shari Jo, my sister Jeane Stites and I last visited Depue recently we had the good fortune to visit Ray. It was a wonderful reunion and many years since I had seen him. He looked great and was the same old Ray.

I later I heard he had to go on Dialysis, resisted it, but one of his daughters talked him into using the process to stay alive, and he did. I wish I had gone to see him before he left us.

I can imagine the two Rays, Vega and Brolley, in heaven catching up with each other's antics.
R.I.P. dear man.