BY MARIELLE D. MARNE | JANUARY 2, 2013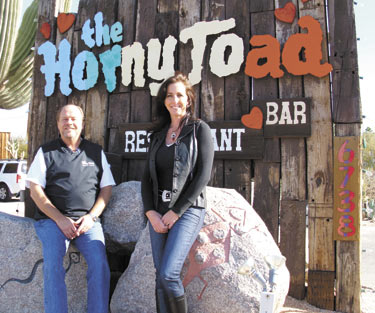 Owner Jeff Price and events coordinator Samantha Barker wish everyone a happy new year and invite you to dine at the Horny Toad Restaurant and Bar. Photo by Marielle D. Marne



CAVE CREEK – In some ways, it's business as usual at the Horny Toad. But after 37 years of success, why fix what's not broken?

But owner Jeff Price has some news to share for 2013. "First, we're getting back to music," he said. Hat Man Dan and the Creekers will be playing Fri. & Sat. (6-10 p.m.) and Sun. (1-5 p.m.). Price said it's kind of a country sound and a lot of fun. "Dan played with me 20 years ago," Price added. So after two years with no music at Horny Toad, it's a great time to get back in and give a listen.

There will be a host of new events upcoming at the Horny Toad. Price has bestowed this task to Samantha Barker, so check out the compilation on Facebook and come and partake of terrific food and festivities.

You can also read about the specials on Facebook. Some notable ones are Monday night all-you-can-eat beef ribs, a $12.95 Tuesday prime rib dinner complete with potato, salad, "the works!" Thursday, all day, enjoy a quarter rack of pork ribs AND two pieces of famous fried chicken (fries and slaw, too) - $12.95! Yes, Horny Toad served 20,000 orders of fried chicken last year. Top any or all of your food with the new Horny Toad Hot Sauce. It's all natural and available in cute bottles to send to family and friends.

There's a host of new drink specials, served up by the new bartender. Plus, Horny Toad has gone local, now serving Cruz tequila!

While the Horny Toad is an Arizona institution, it's always updating and reinventing itself, so stop in at 6738 E. Cave Creek Rd. and experience! Call 480-488-9542 or visit thehornytoad.com for details.