BY LINDA BENTLEY | DECEMBER 19, 2012
Drawing of lots becomes regular practice for Cave Creek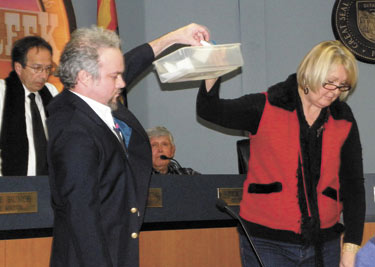 Arizona Republic reporter Phil Haldiman drew names out of the "hat" for Town Clerk Carrie Dyrek to record the order that candidate's names will appear on the March 12 primary election ballot. Photo by Linda Bentley


CAVE CREEK – Mayor Vincent Francia commenced Monday night's council meeting with a moment of silence for the Newtown, Conn. victims.

Town Clerk Carrie Dyrek said she was just made aware of statute that requires political subdivisions with two or more precincts "that hold an all mail ballot election, candidate name rotation shall be the presumed method of ballot organization, unless candidate name rotation is found to be impracticable. When candidate name rotation is found to be impracticable, the position of the names of candidates shall be drawn by lot at a public meeting."

Prior to redistricting, Cave Creek had only one precinct. However, Dyrek stated because 81 members of the town are now in another precinct, the law applies.

Francia asked Arizona Republic Reporter Phil Haldiman to draw the names of the 12 council candidates out of the plastic container "hat" and read them off to Dyrek, who said she would be sending the list to Maricopa County Elections after the meeting.

The town was a nationwide sensation when it held a drawing of lots in June 2009 to determine who would fill the final council seat after Adam Trenk and Thomas McGuire tied with 660 votes each. Trenk won the council seat by drawing a king of hearts over McGuire's six of hearts.

During Call to the Public David Smith expressed being bothered by statements made by Steve LaMar during the last council meeting, in which he accused Smith, Mike Durkin, Eileen Wright and Adam Trenk as using the general plan amendment and rezoning issue to campaign for election.

Smith said none of them said anything they hadn't said before.

He also took umbrage with LaMar's statement that those opposed to the rezoning have only lived in Cave Creek for two years and asked, "How many years do you need to be here to be considered a real citizen?"

Francia, in asking for a motion to approve the consent agenda, pointed out the agenda items, in addition to meeting minutes, included the cancelation of the Jan. 7 council meeting.

Council voted 6-1, with Councilwoman Shelley Anderson dissenting, to approve the second reading to change the underlying zoning of the two Park West parcels just west of the CVS Drug Store on Cave Creek Road and Carefree Highway from Desert Rural to General Commercial.

Planning Director Ian Cordwell said the project will still need to come back before the planning commission and council for site plan review.

During public comment, Carefree resident Jim Peirce spoke in opposition to the rezoning, pointing out the commercial vacancy rate in the area is very high.

Peirce said a referendum would only require 110 signatures, which he claimed could be done in two days.

He then asked council to "kick the can down the road until the new council is seated."

Sonoran News learned Peirce had been at town hall early Tuesday to file paperwork for a referendum on council's decision.

Mike Durkin said it seemed to him there was enough evidence that some more thought needed to be put into the application, stating, "Council owes it to its citizens to put energy and thought into this."

Vice Mayor Ernie Bunch, who moved to approve the second reading, said the town can still use the tax revenue.

Councilman Thomas McGuire said he hoped people who live in the vicinity come to a consensus.

Councilman Dick Esser said, "I haven't heard anything tonight that would get me to change my mind," and noted it had been almost five years with several plans submitted by the applicant.
He said, "I respect the input of citizens and wish they'd do it more often."

The mayor asked Cordwell to, once again, contact those residents who were involved with the application so they can remain involved when the site plan review process gets underway.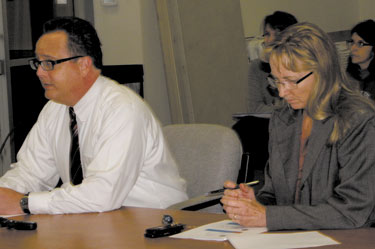 Utilities Manager Jessica Marlow introduced Robert Weddigan and Jane Fuller, the town's new finance director and assistant finance director, respectively. Weddigan and Fuller recently took over the department following Town Accountant Marian Groeneveld's retirement.

Weddigan, before presenting his financial report, said his department has made more detailed financial information available on the town's website.

When asked by Francia if the report Weddigan presented was on the website, Weddigan replied, "No."

Francia asked when it would be online and available at the counter. Weddigan responded, "Tomorrow."

During public comment, Bob Moore told council they have been shrugging their prime responsibilities and delegating it to staff.

Charles Spitzer said it was refreshing to see the new financial reports but stated the reports online were still six months old.

Kerry Smith wanted clarification regarding the majority of sales tax revenue subsidies to the wastewater treatment plant and information APS said it would provide regarding the change and impact in the way it is calculating its franchise fees.

Terry Zerkle wanted to know if the $3 million cash balance was restricted or unrestricted. Weddigen said it was unrestricted.

He also questioned if the $5 million transferred from the general fund for the water enterprise had ever been paid back and if so what happened to it.

Zerkle also said in order to know how the town is doing financially, the debt service should be included in the report, stating, "That's a big nut."

Smith, who was part of the town's budget committee, questioned the unrestricted $3 million cash balance, stating the budget the committee came up with should have had a zero balance.

Weddigan said the town was transitioning from cash basis accounting to accrual and the financial information was being presented in a manner so it would be an apples and apples comparison to previous years.