BY LINDA BENTLEY | DECEMBER 19, 2012
Both towns' mayors running unopposed
Seven candidates vie for six Carefree Council seats; 12 compete for six seats in Cave Creek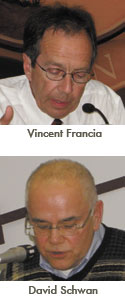 CAREFREE/CAVE CREEK – Although former Carefree Councilman Bob Coady pulled a packet to run for mayor and former Councilman Jim Van Allen pulled a packet to run for council, neither one turned in petition signatures and will not be running.

That leaves Carefree Mayor David Schwan running unopposed, as is Cave Creek Mayor Vincent Francia, in this election, which will be for a three-and-a-half-year term in both towns so they will come into compliance with the new consolidated election law that goes into effect in 2014.

In Carefree, Arthur Gimson is the only incumbent not seeking reelection. Michael Krahe and Les Peterson, who was recently sworn in as a planning and zoning commissioner to take the place of John Crane, who was appointed to council following the resignation of Van Allen this past summer, have joined the field.

In Cave Creek, all six incumbents are seeking reelection along with six new contenders, Mike Durkin, Planning Commissioner Reg Monachino, Steve Snider, Charles Spitzer, Former Councilman Adam Trenk and Eileen Wright seeking to replace them.

Although Former Councilman Russ Carlson pulled a council packet, he returned it intact.

Vince DeDonatis also pulled a council packet but did not turn in signature petitions, while David Smith pulled a packet and collected the requisite number of signatures, he didn't turn them in, telling Town Clerk Carrie Dyrek his "heart wasn't in it."

A question has been raised, however, about whether or not Adam Trenk meets the one-year residency requirement.

A.R.S. 9-232(A) states: "A person shall not be a member of a city or town council unless, at the time of the election, the person is eighteen years old, is a qualified elector residing within the city or town at the time of the election, and has resided in the city or town for one year next preceding the election …"

Sometime after Trenk got married he apparently leased out his home on Highland Road and moved out of town.

Records also indicate Trenk didn't purchase his home on Gunsight Road, the address provided on his PAC Statement of Organization, until June 15, 2012.

Since the primary election is in March 2013, Trenk appears to fall a few months short of the one-year residency requirement to serve on council.

Trenk says statute allows for a temporary absence and stated he had friends living at his house on Highland who were helping to take care of his horses.

However, according to Dyrek, since the residency requirement is regulated by statute, if someone wanted to challenge Trenk's eligibility, they would have to file a complaint with Maricopa County Superior Court.