DECEMBER 19, 2012
CAVE CREEK – While visions of sugar plums may be dancing in some people's heads, in the Desert Foothills people are dreaming about hot stuff. Suzanne's Hot Stuff to be precise!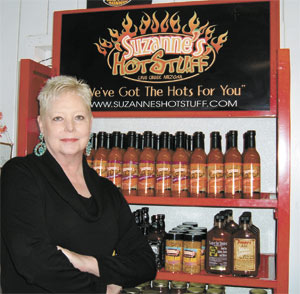 Suzanne Brian opened Suzanne's Hot Stuff 13 years ago in Frontier Town. It is now the Valley's premier destination for hot sauces and chili products. It has not only been well received by locals but visitors from around the country and world make Suzanne's one of their first places to visit when coming to the Valley.

Suzanne has such a loyal following that she treats her customers more like family. During this busy time of year she wants people to know she and her staff are eager to take some of the stress out of their holiday shopping. Can't get in during business hours? Give them a ring, and they'll set up an appointment so you can come in early or after the store closes. It's perfect for those looking for numerous corporate gifts or who want to make up a host of individual gift baskets.

While Suzanne stocks hot sauces from around the world, no doubt her bestselling hot sauces are her own creation. Try Suzanne's Original Habanero, Roasted Chipotle and Garlic or her Extra Hot sauces. If the taste isn't convincing enough, know that her hot sauces have been featured on the Food Network, the Cooking Channel and several local Phoenix news stations. Sunset Magazine also recommends Suzanne's as one of the Best Places in the West to shop. Her Hot Sauces have garnered numerous national awards. She has a new award winning multipurpose rub with a unique taste of the Southwest. Suzanne's Gourmet Southwest Rub is ideal for whatever you're cooking.

For those who prefer less fiery, there's an extensive selection of no-heat salsas. Of course, there's a fun variety of unique gift items.

The holidays are an ideal time to share Suzanne's Hot Stuff with anyone on your shopping list. Stop in at 6245 E. Cave Creek Rd. or call 480-488-1277. For an immediate shopping spree visit www.suzanneshotstuff.com.