DECEMBER 12, 2012
Fewer Americans employed and the unemployment rate drops?
FAIRFAX, Virginia – Americans for Limited Government President Bill Wilson recently issued the following statement on November's unemployment rate:

"122,000 fewer Americans had jobs in November than in October, yet the government reports that the unemployment rate declined to 7.7 percent. This simple fact is why the unemployment rate has become one of the least relevant economic statistics that the federal government releases. Instead of being a benchmark for the nation's employment situation, it no longer is tied to the real employment situation. Anyone who continues to take it seriously as a meaningful measure of our nation's economy is either fooling themselves or trying to fool others."

Below is the data from Schedule A of the Labor Department unemployment report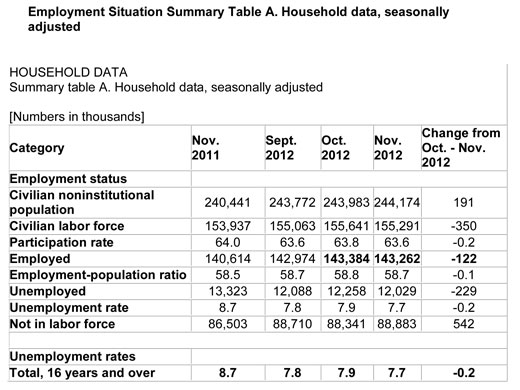 Americans for Limited Government is a non-partisan, nationwide network committed to advancing free market reforms, private property rights and core American liberties. For more information on ALG please call us at 703-383-0880 or visit our website at www.GetLiberty.org.