BY LINDA BENTLEY | DECEMBER 12, 2012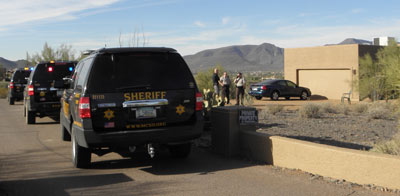 CAVE CREEK – Maricopa County Sheriff's deputies responded to a call last Wednesday afternoon at a home in the 6600 block of East Cave Creek Road where a domestic dispute was taking place.

The homeowner apparently tried to break up with his girlfriend, who, following a 911 call the night before, was transported to the hospital by ambulance after appearing to be extremely intoxicated.

Not wanting to break up their relationship, the woman returned to his home the next day very intoxicated and was wielding a knife at some point. The homeowner received cuts to his hand as he attempted to take the knife away from her.

It's not clear if she intended to harm the homeowner or herself.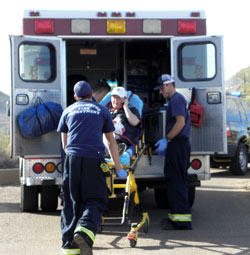 The woman, whose identity was not disclosed, ran off into the desert when MCSO arrived but was apprehended by deputies after a brief chase.

Once again, MCSO said the woman appeared to be extremely intoxicated on an unknown quantity of drugs and/or alcohol and was transported to the hospital by Rural/Metro.

The homeowner's injuries were treated at the scene.