BY LINDA BENTLEY | DECEMBER 12, 2012
A-frame signs remain bone of contention in Carefree
'I hate to see the visual clutter. I don't see a need for it.'
CAREFREE – During the Current Events segment of last Tuesday's council meeting, Mayor David Schwan thanked Councilman Arthur Gimson for his speech during the Salute to Veterans event.
Council voted unanimously to formally canvass the results of the Nov. 6 election. Town Clerk Betsy Wise said Proposition 451, ratification of General Plan 2030, was approved by voters by a margin of almost 3-1 with 1,221 votes for and 418 against.

Schwan commented there were 744 under votes, meaning there were 744 Carefree voters who didn't vote on the proposition at all.

He said it was troublesome and could prove to be a problem with the new consolidated election law.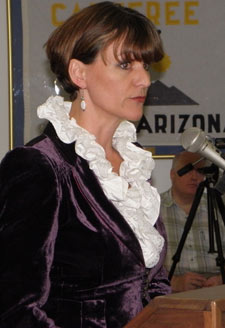 Jo Gemmill (l) updated the town on the town's sixth annual Christmas Festival.

Quoting an old English saying, "From little acorns mighty oaks do grow," Gemmill said five years ago the festival was a little acorn which has developed into a mighty oak.

She said the town can expect 30,000 people coming into town for the Christmas Festival that weekend and with the increase in business and corporate donations, Gemmill indicated the town may not need to contribute to the festival in the future.

"This is not going away," said Gemmill, "This is a community driven event."

Gemmill said there were over 50 entries in the parade, one of which is Russ Lyon Realty, an entry she said they've been working on since July.

The Christmas Market will have over 100 vendors and 20 food vendors that are open until 9 p.m.

Gemmill said, "I'm confident you will be very impressed with the festival this year."

After some lengthy discussion, council voted 4-3 to approve the second reading of an ordinance permitting A-frame, or sidewalk, signs in commercial zoning districts.

The ordinance makes the moratorium lifting the prohibition of A-frame signs more of a permanent solution with some additional restrictions such as requiring signs to be placed no farther than 35 feet from the main entrance to the business, effectively eliminating signs from being placed on arterial streets.

According to Town Administrator Gary Neiss, the town's ordinances prohibited sidewalk signs until 2009 when council approved the moratorium to temporarily lift the restriction.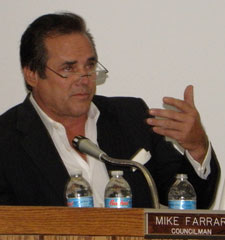 Councilman Mike Farrar (l) provided a photo from Seattle showing a business district with a profusion of A-frame signs and called it visual clutter.

Councilman Glenn Miller said he felt the ordinance was a good compromise.

Councilman Marty Saltzman said he too was torn over the ordinance and said imposing restrictions is council's job as they try to balance business owner's needs with people who come to town.

He said business owners should tell their landlords if they don't improve signage, "We're out of here."

Saltzman, long a critic of the sidewalk signs said, "When you drive through neighboring communities the A-frames are not helping."

Gimson said the ordinance was a positive step by removing A-frames from arterial roads and said when people drive up Tom Darlington and turn left on Cave Creek Road they're confronted with a barrage of signs and banners on Cave Creek Road, apparently referring to Stagecoach Village.

Farrar asked if there was a reason the ordinance didn't go back to planning and zoning.

Schwan said, "Yes, planning and zoning did a good job and made their recommendations. They already did their job. I decided it was a decision council needed to make."

Councilman John Crane commented, "If over time our vacancy rate improves, we can go back and change the ordinance."

Farrar said, "I don't think we need them. I'm more inclined to continue the moratorium for one more year than make it permanent."

Melissa Price said, "I feel very torn about this also. I would like to see this restricted just for the restaurants."

During public comment, Gemmill, who owns the English Rose Tea Room on Easy Street, said she agreed with a lot of the comments made by Farrar but also understood the needs of friends of hers who owned businesses that are not easily found.

She said, "I have sympathy and empathy for merchants who are not on the main road," but stated some people are using awnings to make their businesses more visible.

Gemmill said, "It will be a sad day when every business on Easy Street has an A-frame sign."

Greg Cooper, who owns Cooper's Nutrition in the Basha's shopping center said having an A-frame sign on Tom Darlington Drive was vital to his little business.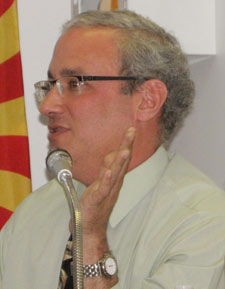 Saltzman (r) said council could approve the ordinance with the understanding if they didn't like it they could come back and revisit it.

Crane said allowing the signs could make it difficult to take them away.

Farrar said he liked Price's idea of allowing them just for restaurants, adding, "I hate to see the visual clutter. I don't see a need for it."

Schwan said he supported the proposal that was before council and stated once it was enacted council could always adjust it, although he preferred the town not have A-frame signs.

He said, "Right now, this is the right thing to do."

Saltzman suggested continuing the moratorium but with the provisions of the ordinance.

Miller's motion to approve the second reading of the ordinance as presented passed with a vote of 4-3 with Price, Crane and Farrar dissenting.

The town voted unanimously to use the balance of funds remaining in development fees collected for open space to purchase a 30-acre parcel north of Grapevine Wash and east of 80th Street in the foothills of Continental Mountain for $280,000.

However, according to Neiss, the selling broker has agreed to credit his commission against the selling price, so the total cost to the town will be $268,800 plus associated closing costs.

The property owner is donating another 10 acres abutting the 30-acre parcel to the north in unincorporated Maricopa County to the Desert Foothills Land Trust (DFLT).

DFLT Executive Director Sonia Perillo, who was approached by the town for assistance in locating an appropriate parcel, said it was not very often that someone comes to them saying, "We have a pot of money."

Miller stated, in 2000, the town of Carefree donated $100,000 toward the purchase of Spur Cross Ranch in Cave Creek and never got credit for it and he just wanted to mention it for the record.

During public comment, a citizen asked if anyone on council had walked the property. None of them had.

Neiss said he walked the property once.

Members of council indicated they still had an opportunity to walk the property prior to the close escrow scheduled to be on or before Jan. 18, 2013.