dECEMBER 12, 2012
Bringing your 4-legged friend home for the holidays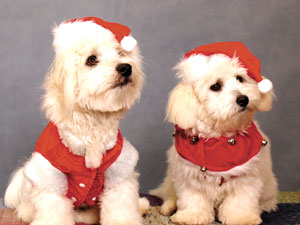 For many pet lovers, holiday traveling without their beloved pet simply won't do. Taking your pet along can make a holiday event fun for everyone, if you plan carefully.

Sarah Griffin, a lecturer at Texas A&M College of Veterinary Medicine & Biomedical Sciences (CVM), says the first step in preparing for your pet's travel is to keep up-to-date with interstate and international travel regulations, which can be found online at www.aphis.usda.gov

"If you are going across state borders a health certificate is required, which involves a veterinarian examining your pet, updating their vaccinations, and ensuring that your pet is travel healthy," says Griffin. "You should also make sure that pets are allowed at places you will be staying, especially with inns and hotels."

Must have items to pack for your pet's travels include a collar and leash for walks during pit-stops, a crate and blankets for a cozy place for your pet to sleep, toys for your pet to relax and dishes for food, water, and medications.

"A list of veterinarians and/or pet emergency clinics along the way and at the destination is important in case of any unfortunate accidents," says Griffin. "You should also make sure your pet has a form of identification with up-to-date information, like a microchip."

Pet owners should remember that traveling is stressful for pets in much of the same way it is for their owners. Make sure that your pet is habituated to riding in a car before starting an extended road trip. While medication can be prescribed for anxiety it is highly recommended to just train your pet for extensive car outings.

"When on outings make sure your pet is restrained in the car by either a harness, a pet friendly seat belt, or is safe in a crate, as this protects the pet and the car's other passengers," says Griffin. "A pet bed or blanket should be kept with your pet at all times to help keep their anxiety in check. It is also important to make sure the seats containing your pet have their air bags deactivated to prevent any unfortunate accidents. While out on the road, make sure to stop about every three or so hours to allow your pet to use the bathroom and drink water."

Pet Talk is a service of the College of Veterinary Medicine & Biomedical Sciences, Texas A&M University. Stories can be viewed on the Web at http://vetmed.tamu.edu/pettalk.