DECEMBER 12, 2012
Tickets still available for Joyous Noel! concert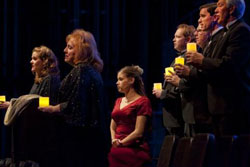 Photo Courtesy of Mike Spinelli Photography
Aprilynne Pike (center) with PMAZ performers

ANTHEM – Last season's ProMusica Arizona (PMAZ) performance of Joyous Noel!, led by the enthusiastic Dr. Adam Stich, was so popular PMAZ will bring the entertaining holiday program back this season with some new music and traditional favorites. Best-selling author Aprilynne Pike will once again narrate the biblical Christmas story. A candlelight processional, beautiful carols, gentle snow falling onstage, and a sing-along of "Silent Night" are sure to put the audience in the spirit of the season.

Saturday, Dec. 15 at 7:30 p.m.
Sunday, Dec. 16 at 4 p.m.
Boulder Creek High School Performing Arts Center
40404 N. Gavilan Peak Parkway, Anthem 85086

PMAZ Artistic Director Dr. Adam Stich will welcome patrons at an informative pre-concert conductor's talk included in the price of preferred seating tickets at $20. Regular adult tickets are $15; senior tickets are $12.50; and student tickets are $10 for the Saturday evening performance and $5 for the Sunday afternoon performance. The pre-concert talk will start 30 minutes before each concert. To enhance the enjoyment of the production, performances will run without intermission. To purchase tickets, go to www.pmaz.org or call 623-889-7144. Tickets also are available at Andrew Z Diamonds and Fine Jewelry and the Deer Valley Credit Union in Anthem. For more information about Aprilynne Pike, go to www.aprilynnepike.com
Andrew Z Diamonds and Fine Jewelry in Anthem has generously sponsored the concert performances of Joyous Noel!

ProMusica Arizona Chorale & Orchestra is a 501 (c)(3) non-profit organization celebrating its 10th Anniversary Season. PMAZ is a multi-generational community choir and orchestra whose mission is to enrich the Phoenix North Valley community by sharing the joy of creating and experiencing fine music with its members and audiences. For more information, go to www.pmaz.org.