BY LINDA BENTLEY | DECEMBER 5, 2012
Flynn is credited with getting legislation passed since that time specifically to make the formation of county island fire districts easier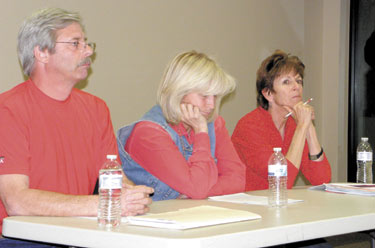 Some property owners questioned whether the Rio Verde Foothills Fire District forming board Joseph Blanchette (from left), Bashi Bubba and Carmela Lizzo was legitimate because Blanchette does not own any property within the district's boundaries.
Photo by Linda Bentley


RIO VERDE – The year-long petition drive to form a special taxing district for fire protection in the Rio Verde Foothills area ended in failure on Nov. 30.

When John Flynn, managing principal member of PolicyLogic, LLC, a government affairs consulting firm and paid lobbyist for Arizona Fire District Association, turned in petition signatures to Rebecca Rees on Nov. 29 at the Maricopa County Clerk of the Board of Supervisors' Office for a fire district for Queen Creek, he told Rees they fell short of the number of signatures required for Rio Verde.

This was the second failed attempt to form a special taxing district for fire protection in Rio Verde. The first attempt was in 2005.

However, Flynn is credited with getting legislation passed since that time specifically to make the formation of county island fire districts easier by introducing paid signature gatherers to the mix. Previously they had to be created through a grassroots effort that barred paid petition carriers as is the case with all other special taxing districts.

Several years ago Rio Verde residents faced a petition drive to form a water district.

That too became very a very divisive issue as it pitted those who owned property with expensive wells against property owners with no water, including the person who drilled their wells.

Rural/Metro Fire Department, which currently employs a voluntary subscription model for fire protection services, supported the efforts of the district's forming board, Joseph Blanchette, Bashi Bubba and Carmela Lizzo, to institute a property tax.

Rural/Metro used to have a fire station nearby when the city of Scottsdale contracted fire protection services with Rural/Metro. But when Scottsdale decided to form its own fire department several years ago, Rural/Metro lost that fire station and now calls for service can take as long as 40 minutes.

Proponents claimed the formation of a special taxing district would allow Rural/Metro to build a new fire station in the community complete with a fire engine, water tanker and brush truck along with five firefighters.

However, fire districts are not permitted by law to own assets.

Even though the fire district failed to collect enough signatures, it appears Rural/Metro is forging ahead with plans to build a fire station somewhere between 144th and 152nd streets anyway.

According to Central Arizona Rural/Metro Chief Dan Caudel, it's not clear what level of service it will be able to provide, but having a fire station in the community should help them attract more subscribers.

Opponents of the fire district weren't entirely opposed to bringing better fire protection and emergency medical services closer to the community, although questions were raised about the forming board's legitimacy, since Blanchette does not own any property in the district. There were also questions about the board's meetings, if there were minutes and whether they violated open meeting laws.

Annie Hodgkins stated she's not opposed to bringing fire protection and emergency medical services closer to the community but said she would like to explore other options, including looking into volunteer models employed by remote communities such as Tonto Hills.

Other people moved to the area knowing there were limited services available and enjoyed the lower property taxes.

Against the will of the voters, legislation was passed a number of years ago annexing the Rio Verde Foothills into the Cave Creek Unified School District, which raised property taxes substantially.

Some residents, upon seeing special interest groups from outside the community, such as the school district and lobbyists attempting to form fire and/or water districts, wonder where it will all end.

As it stands now, if Rural/Metro responds to a fire in the community and that property owner is not a subscriber, they will be billed the cost of putting out the fire, a cost that can run into tens of thousands of dollars.

However, there are still some folks who say they just prefer to take their chances and carry insurance for that reason.