BY LINDA BENTLEY | DECEMBER 5, 2012
PHOENIX – Last Thursday the ACLU filed a class action complaint in federal court on behalf of the Arizona DREAM Act Coalition against Gov. Jan Brewer, Arizona Department of Transportation (ADOT) Director John Halikowski and ADOT Assistant Director Stacey Stanton over Brewer's executive order denying driver licenses to illegal aliens granted deferred action under President Obama's Deferred Action for Childhood Arrivals (DACA) program.

Joining the ACLU in the legal battle is the National Immigration Law Center and the Mexican American Legal Defense and Education Fund.

The action is brought by illegal aliens brought to the United States as children, referred to as "DREAMers" based on the proposed federal DREAM (Development, Relief and Education for Alien Minors) Act legislation Congress did not pass.

The president instead issued an executive order granting relief to qualified individuals through DACA to allow them to work and attend school.

Gov. Jan Brewer responded to his executive order with one of her own, issuing a directive that those granted deferred action under DACA are not eligible for driver licenses.

The ACLU estimates that there are approximately 80,000 DACA-eligible youth residing in Arizona who have been, or will be, eligible for deferred action for a renewable period of two years under the program and may be granted federal employment authorization and a Social Security Number.

The complaint states, "All DACA grantees in Arizona are being denied the opportunity to obtain a driver's license pursuant to defendants' unlawful policies and practices."

Brewer's Executive Order 2012-06, issued the same day the Department of Homeland Security (DHS) began accepting DACA applications, made it clear "issuance of Deferred Action or Deferred Action USCIS employment authorization documents to unlawfully present aliens does not confer upon them any lawful or authorized status and does not entitle them to any additional public benefit."

Because DHS Secretary Janet Napolitano's guidelines specifically state the deferred action program confers absolutely no legal status whatsoever to any alien who qualifies under DACA, Brewer directed state agencies to take necessary steps to "prevent deferred action recipients from obtaining eligibility … for any … state identification, including a driver's license."

Plaintiffs claimed at a press conference announcing the lawsuit, Brewer was "playing politics with the hopes and dreams of tomorrow's leaders."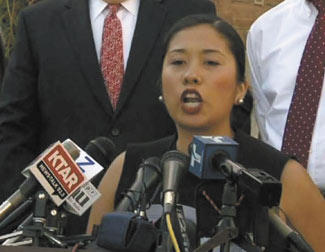 During the press conference, Arizona Dream Act Coalition President Dulce Matuz (r), an illegal alien who came to this country from Mexico at the age of 15, stated, "We will not tolerate any politician in power to treat DREAMers like second class citizens."

However, Brewer is not treating DREAMers like second class citizens she is treating them like illegal aliens, as their status remains unchanged under the DACA program.

Brewer responded to the lawsuit by saying, "Having a driver's license is a privilege, not a constitutional right," and it is under the state's authority to issue licenses and/or identification documents.

The lawsuit contends, "Deferred action is a longstanding form of prosecutorial discretion in which the federal government decides, based on humanitarian or other reasons, to refrain from seeking an individual noncitizen's removal and to authorize her continued presence in the United States," stating the DACA program is intended to "lift the shadow of deportation from these young people" and "to mend our nation's immigration policy to make it more fair, more efficient and more just," quoting from Obama's June 15, 2012 Remarks on Immigration Reform.

Plaintiffs argue, prior to Brewer's executive order, the Motor Vehicle Division (MVD) of ADOT issued driver licenses to all noncitizens granted deferred action who were otherwise qualified, claiming the MVD routinely accepted federal employment authorization documents, including those presented by noncitizens with deferred action, and routinely issued driver licenses to persons presenting such documents, including noncitizens with deferred action.

According to the complaint, following Brewer's executive order, the MVD revised its policies "to bar the acceptance of employment authorization documents of DACA recipients as evidence of authorized presence in the United States to establish eligibility for driver's licenses."

Despite Brewer stating the purpose of her executive order is to prevent "unlawfully present aliens" from "inappropriately gaining access to taxpayer funded benefits and state identification" and save the state money, the complaint states that is not a "valid justification" for the executive order.

Although Nebraska and Texas governors have also issued directives denying driver licenses to DACA recipients, Arizona is the only state facing a lawsuit.