DECEMBER 5, 2012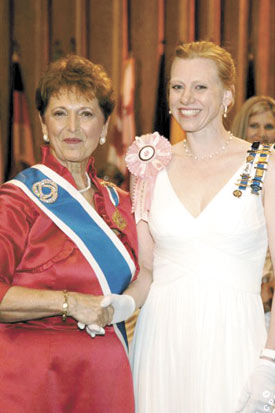 Scottsdale resident Katie Paulsen (right) is congratulated by President General of the National Society of the Daughters of the American Revolution, Merry Ann Wright (left) in Constitution Hall in Washington, DC.


SCOTTSDALE – The Grand Canyon Chapter, National Society Daughters of the American Revolution is proud to announce that one of their members, Katie Paulsen, was recognized as the 2012 Arizona Outstanding Junior and became one of eight finalists in the national contest, among over 30 contestants. This contest is based on a member's DAR involvement and community service until she is 36 years old. The contest promotes active members under the age of 36 to become stronger leaders in DAR and in their communities.

Paulsen has been a member of DAR since 2003 and is a 7th generation descendant of Michael Wolfe, who fought in the Berks County Militia. She has been active locally, as well as throughout the state and nationally, leading committees that that have focused on literacy, restoration of historic buildings, promotion of patriotism among youths in the US, conservation, and leadership development. Paulsen has held several chairman and officer positions, and currently serves as Grand Canyon Chapter of Scottsdale's Chapter Regent. Katie Paulsen can be contacted by email at azkpaulsen@yahoo.com.

The National Society Daughters of the American Revolution was founded in 1890 to promote patriotism, preserve American history, and support better education for our nation's children. Its members are descended from the patriots who won American independence during the Revolutionary War. With more than 165,000 members in approximately 3,000 chapters worldwide, DAR is one of the world's largest and most active service organizations. To learn more about the work of today's DAR, visit www.DAR.org.