BY MARIELLE D. MARNE | DECEMBER 5, 2012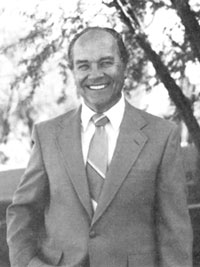 CAREFREE – It was 1968 when Palm Desert Realty was established in Carefree, and Harry S. Vardakis remains at the helm in 2012. He came to Arizona by way of Jersey City, having parents of Greek descent who installed in him a work ethic that would be his foundation for success. His first endeavor was impressive; he and his brothers started, on what he calls spit and guts, a food store next to their father's deli. It was a customer from the "Boulevard Mart" who suggested Harry and his wife, Marti, try a vacation out west.

That summer, the couple traveled by train only to arrive on a 100-degree day in Phoenix! On that trip, Harry decided to purchase a piece of property for their retirement years. For the next eight years, Harry and Marti visited the Grand Canyon State, and they bought a parcel of land in the Carefree/north Scottsdale area. Eventually, Marti suggested they leave New Jersey and relocate to where they owned real estate.

Since Harry had retail experience, as well as two years in business college, he bought a retail business in Scottsdale. That flourished, and two years later, he sold it. Seeking their next adventure, Marti suggested Harry go into real estate.

Harry knew he was assuming another risk, but again, luck was on his side when Carefree Developers, those folks behind the Boulders, asked him to join their team. Harry secured a name for himself in the world of real estate ever since. (See more of Vardakis' story in Sept. 1997 Carefree Enterprise Magazine.)

Now, you can find him at 30 Easy St., along with his professional and knowledgeable salespeople. Harry is charming, and he loves this area, so he can guide you in all your real estate desires – homes, condos, lots, commercial, resort properties, raw acreage. Just ask!
Phone him at 480-488-3099 or see www.palmdesertrealty.com.