BY MARIELLE D. MARNE | DECEMBER 5, 2012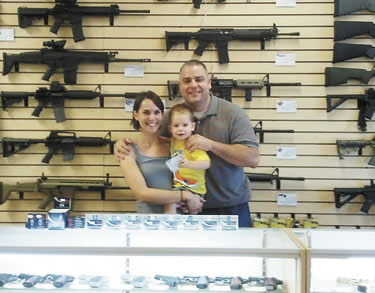 CAVE CREEK - Kyle Olsen, owner of Olsen Firearms, would like to extend his gratitude to the locals and the community for his success this last year in his newest location. "We really appreciate the support everyone has shown us," he said.
To show his thanks, through December, Olsen will pick up the sales tax on the purchase of two guns. (To receive the savings, mention this article.) The holiday season is the ideal time to give the gift of personal protection. Why not buy a handgun for yourself and for your most precious loved one?
A nifty feature Olsen offers is DuraCoat and Cerakote firearm finishes. There's vibrant pink for the ladies, camo for the guys and a plethora of colorful options in between. Turnaround takes about a week, therefore, visit Olsen Firearms promptly so there's time to wrap and place under the tree!
Gun enthusiasts can find all their shooting accoutrements at Olsen Firearms - name brands like Walther, Colt, Springfield (1911s remain in high demand), accessories, ammo. Since Arizona passed the law allowing suppressors (aka silencers), Olsen stocks those as well. "They are good to use so you don't need hearing protection. It makes a big difference," he explained.
You can find everything from ARs, which are big right now, to airguns. Because Olsen Firearms caters to both new shooters and veterans of the range, the staff, Kyle, along with Aaron and Brian, takes time to listen and pair customers with the right weapon for their individual needs.
Visit Olsen Firearms at 28212 N. Tatum Blvd. (around the corner from Ace) or call 480-922-8221 for hours.