BY LINDA BENTLEY | NOVEMBER 21, 2012
Recent immigration and welfare reform laws have generated considerable public confusion about … the meaning of 'public charge'
WASHINGTON – Section 212 of the Immigration and Nationality Act (INA) specifically states, "An alien who, in the opinion of the consular officer at the time of application for a visa, or in the opinion of the Attorney General at the time of application for admission or adjustment of status, is likely at any time to become a public charge is inadmissible."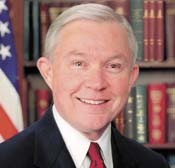 Earlier this year, it was brought to the attention of Sen. Jeff Sessions (pictured), R-Ala., Ranking Member, U.S. Senate Committee on the Budget, that the U.S. Department of Agriculture has an ongoing partnership with Mexico in which Mexican consular offices encourage non-citizen enrollment in USDA welfare programs.

And, materials distributed by the consular offices assures those recruited to enroll in programs such as the Supplemental Nutrition Assistance Program (SNAP), or food stamps, that their reliance on such will not be taken into account when the merits of an application for a visa or adjustment of status is under consideration.

Sessions found, upon further review of the Department of State and Department of Homeland Security (DHS) protocols, the policy also applied to dozens of other welfare programs.

On Aug. 6, 2012, Sessions, joined by Sens. Orrin Hatch, R-Utah, Chuck Grassley, R- Iowa, and Pat Roberts, R-Kan., sent a letter to DHS Secretary Janet Napolitano and Secretary of State Hillary Clinton expressing concerns over the policy, stating Congress intended, via Section 212 of the INA, that immigrants who come to the United States not become dependant on our welfare system.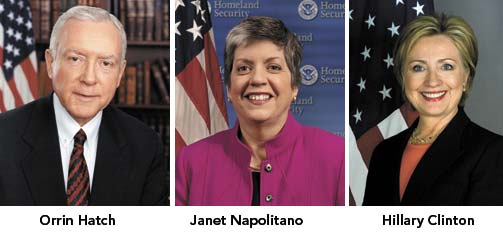 He wrote, "It has long been a sound principle of immigration law that those who seek citizenship in this country ought to be financially self-sufficient. We were shocked to discover that both the State Department and DHS exclude reliance on almost all government welfare programs when evaluating whether an alien is likely to become a public charge. Your agencies apply a cramped interpretation of the law in this regard, considering reliance on only two of nearly 80 federal welfare programs as evidence of likelihood of becoming a public charge: Supplemental Security Income (SSI) and Temporary Assistance for Needy Families (TANF)."

Sessions pointed out guidance from their agencies specifically prevents consular and DHS officials from considering the likelihood an alien will receive SNAP, Women Infants and Children (WIC) payments, Medicaid, child-care benefits, foster care, energy assistance, educational assistance, other medical and health benefits, and assistance from at least 15 different nutritional welfare programs when reviewing applications.

The letter said their interpretation of the INA, along with the actions of the USDA to recruit new immigrants to sign up for SNAP benefits, "undermines both congressional intent and sound immigration policy," adding, "Indeed, under your interpretation, an able-bodied immigrant of working age could receive the bulk of his or her income in the form of federal welfare and still not be deemed a 'public charge.'"

Calling the implications of their policies to both our nation's finances and standards of U.S. citizenship eligibility extraordinary, the letter asked that Napolitano and Clinton provide:

1. An explanation of why receipt of most welfare benefits is excluded from consideration of citizenship eligibility, and how this complies with the INA and congressional intent.

2. From 2001 to 2011, how many visa applicants and applicants for admission through the Visa Waiver Program were denied visas or admission because they were deemed likely to become a public charge?

3. From 2001 to 2011, how many visa applicants were found likely to become a public charge but were nevertheless granted a visa and admitted into the United States because they presented an affidavit of support?

4. How many aliens issued visas or otherwise admitted into the United States from 2001 to 2011 became public charges as defined by your agency after entering the United States?

5. If your answers to the above questions are that your agencies do not track this information, then please explain why this information is not tracked.

Although the letter gave them until Aug. 20 to respond, there was no response.

A follow-up letter was sent on Sept. 25 stressing the importance of the information, stating, "Congress and the American people have the right to a serious, prompt, and complete response to our questions."

It appears some of these policies to determine inadmissibility date back to the Clinton presidency.

On May 26, 1999, the Department of Justice published a proposed rule in the Federal Register as "Field Guidance on Deportability and Inadmissibility on Public Charge Grounds," the purpose of which was "to establish clear standards governing a determination that an alien is admissible or ineligible to adjust status, or has become deportable, on public charge grounds."

Under supplementary information, INS Commissioner Doris Meissner stated, "Recent immigration and welfare reform laws have generated considerable public confusion about the relationship between the receipt of federal, state and local public benefits and the meaning of 'public charge' in immigration statutes governing deportation, admissibility, and adjustment of status. The Department decided to publish a proposed rule defining 'public charge' in order to reduce the negative public health consequences generated by the existing confusion and to provide aliens with better guidance as to the types of public benefits that will and will not be considered in public charge determinations."

The proposed rule defined "public charge" for purposes of both admission/adjustment and deportation as an alien who has become (for deportation purposes) or is likely to become (for admission/ adjustment purposes) "primarily dependent on the government for income maintenance or institutionalization for long-term care at government expense."

The proposed rule stated, "Institutionalization for short periods of rehabilitation does not constitute such primary dependence."

The Service (INS) adopted the definition immediately while allowing the opportunity for the public to comment on the proposed rule.

The rule went on to state, "Accordingly, officers should not initiate or pursue public charge deportation cases against aliens who have not received public cash benefits for income maintenance or who have not been institutionalized for long-term care. Similarly, officers should not place any weight on the receipt of non-cash public benefits (other than institutionalization) or the receipt of cash benefits for purposes other than income maintenance with respect to determination of admissibility or eligibility for adjustment on public charge grounds."

The administration has yet to respond to the senators' requests for information.