NOVEMBER 21, 2012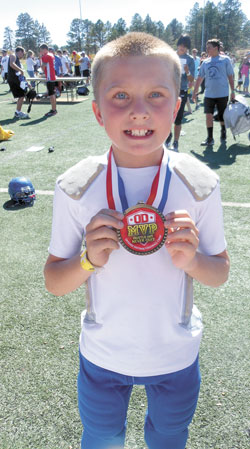 MYRTLE BEACH, South Carolina – While attending an Offense-Defense Football Camp this summer, Tyler Reynolds, 10, of Cave Creek, was named an Offense-Defense All-American and invited to participate in the 7th-annual Offense-Defense Bowl Week festivities taking place at Reliant Stadium in Houston, Texas.
Tyler, a running back and defensive end for Cave creek, was selected for this honor from a group of young athletes numbering in the thousands across the country and played well representing Cave Creek, easily validating the Bowl Selection Committee's choice in tabbing Tyler for the All-Star tilt.
The Offense-Defense Youth All-American Bowl, is part of a week long series of events including the televised 7th-annual Offense –Defense All-American Bowl, an All-Star football game showcasing 88 of the top high school seniors in the country and has featured current NFL pros such as Cam Newton, Carolos Dunlap and Dez Bryant among others before they were collegiate stars.