BY MARIELLE D. MARNE | NOVEMBER 21, 2012
Personal touch promised when remodeling with Michael Puccillo, LLC
With over 30 years in the construction industry, Michael Puccillo knows what's hot and what once was. "People are looking for a lot of 'green' or recycled products," he said, "and there's definitely more availability out there."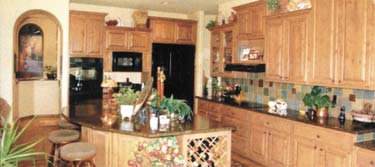 Given they feel more confident in the economy, homeowners are updating kitchens and baths, and that's where Michael Puccillo, LLC comes in. He explained that even buyers seeking pre-existing homes are expecting at least kitchen and baths to be renovated. So, for example, where granite was once all the rage, Puccillo is seeing a demand for recycled glass countertops. Why not reflect your cutting-edge style in your home this holiday season?

Puccillo works within clients' budgets and can break down the projects in stages as finances allow. His quote is itemized so customers can see a cost breakdown. "It's the best way for people to understand where their money is being allocated." Additionally, some banks are lending money for remodels, and Puccillo can assist with getting folks the paperwork or putting them in touch with the right people. "Money is available and interest rates are low," he offered.

Puccillo can tackle interiors, from moving walls to adding islands, to even correcting inferior work prior contractors may have done during the housing boom a few years back. He definitely has some stories but is armed with the skill to cost-effectively fix problems during a remodel that are hidden behind walls or in ceilings. He's a firm believer in curbside appeal and can address pavers, exterior lighting and landscape for front yard and back.

Give Michael Puccillo, LLC a call at 602-509-9972. He offers free consultations, he's creative and honest and he says now is the time to schedule a remodel if you're opting for a new look in the new year.