NOVEMBER 7, 2012
CAVE CREEK – Cave Creek Museum is hosting "A Miner's Dinner" on Tues., Nov. 13 from 5 – 9 p.m. at the Museum, 6140 Skyline Dr., in Cave Creek. Guests will be transported back in time as they dine outside by the Museum's historic Stamp Mill that is believed to date back to 1880.
Attendees will have a chance to see its primary crusher in action along with other demonstrations and see firsthand the restoration progress. Dinner will be patterned after that of a traditional miner's fare. Cowboy balladeer Mike Ewing will perform and guests can also bid on silent and live auction items. Tickets cost $50 and because seating is limited, reservations are requested.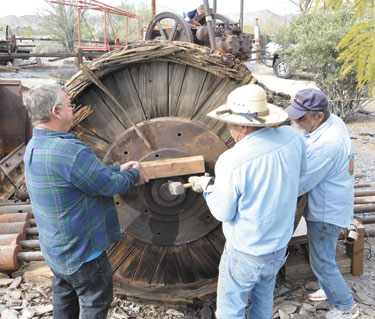 "Since April 2009, our fabulous volunteers have logged more than 7,000 labor-intensive hours cleaning, fixing, and lugging 80,000 pounds of iron pieces on Museum property in order to restore our historic Stamp Mill," said Evelyn Johnson, Cave Creek Museum's executive director. "Join us as we celebrate their work and share what it will take to make the Stamp Mill operational."

The Golden Reef Mine Stamp Mill was declared to be an Arizona State Historic Property by Arizona State Parks in 1986. Museum guests can view it along with several outside exhibits, including ranch implements and large tools, a gazebo, the first church of Cave Creek, and the last known original Tubercular Cabin in Arizona, which is on the National Register of Historic Buildings.

Cave Creek Museum hours are Wed., Thurs., Sat. and Sun. from 1 p.m. to 4:30 p.m., and Fri. from 10 a.m. to 4:30 p.m. Entrance fees are $5 for adults; $3 for seniors; and $2 for students. Children 12 and under are free. For information, call 480-488-2764, or visit www.cavecreekmuseum.org.