NOVEMBER 7, 2012
CAVE CREEK – The Town of Cave Creek and the Cave Creek Bicycle Association are proud to announce the fourth Annual Cave Creek Bicycle Festival will be held Saturday, Nov. 10 in downtown Cave Creek. The day's events will focus on a 24 mile mountain bike race/ride and kids' race featuring rides and races for all ages.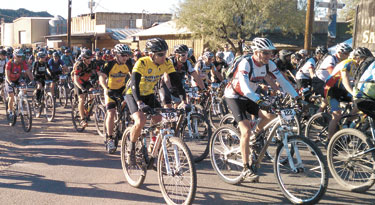 Race organizer Mike Rigney noted "bicycling is not only fun but provides the foundation for a healthy lifestyle." This year it's all about mountain biking – for both adults and kids and raising money to help the town acquire over 4,000 acres of State Trust Land and preserve for future generations as permanent open space. All net proceeds are placed in a permanent fund for conservation land acquisition.

Promptly at 9 a.m., Mountain bike racers and casual riders will begin their 24 mile trek with a police escort up Spur Cross Road. When the road turns to dirt the race is on for the expected 150 mountain bikers. The casual riders can enjoy the spectacular scenery of the Spur Cross Ranch Conservation Area and Cave Creek Regional Park at their own pace.

More than 20 members of the Maricopa County Emergency Communication Group will ensure that everyone on the route returns home safely. Lunch provided by the Cave Creek Smokehouse awaits all riders when they return to the Start/Finish line at Frontier Town in Cave Creek. Each finisher receives a hand-made ceramic medallion by local artist Judy Darbyshire. Trophies for the top three finishers will be awarded unique trophies made by local metal artist Ron Mcgee.

In the afternoon at 2 p.m. it's the kids turn as children as young as 18 months challenge the Strider® obstacle course while the older kids ride some laps on a short nearby mountain bike loop. Lunch will be provided by the local Hotdog Guy.

For more information and to register visit www.cavecreekbicyclefestival.com or find them on Facebook.