NOVEMBER 7, 2012
Desert Discovery Day at the Jewel of the Creek Preserve!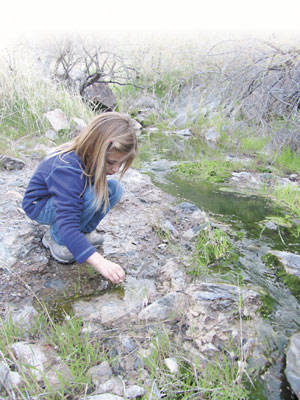 CAREFREE/CAVE CREEK /SCOTTSDALE – Come on out to discover the wonder and beauty of our Sonoran Desert home! Desert Foothills Land Trust is thrilled to host a day of free outdoor experiences and hands-on education at the Jewel of the Creek Preserve in Cave Creek, Arizona.

Desert Discovery Day on November 17, 2012 will allow children of all ages to explore the preserve, learn about the diversity of life in our desert, and to examine the geology and archaeology underlying this magnificent landscape.

The day will include a "scavenger hunt" of informational stations along the Harry Dalton Trail. Children will receive a stamp at each station, and they'll receive a goody bag for collecting all the stamps. Stations will include information and activities from the Land Trust and partner organizations, such as live raptors from Wild At Heart, crayfish collection in the creek, practicing corn grinding on a metate from the Desert Foothills Chapter of the Arizona Archaeological Society, seining for invertebrates living under rocks in the creek, or comparing the differences between a saguaro and a barrel cactus. There will be exhibitors, crafts, and even free refreshments!

Come out to meet many of the board members, staff and dedicated volunteers of the Land Trust who will be there to serve food, answer questions and give you a chance to get to know them. Other participants include:

Arizona Archaeological
Society, Desert Foothills
Chapter
Audubon Arizona
Rural/Metro Fire Dept.
Southwest Wildlife
Conservation Center
Spur Cross Ranch
Conservation Area
Wild At Heart

Desert Discovery Day is sure to be an exciting event for our community and for our children in particular. Wear your hiking shoes and come prepared for fun, hands-on desert adventures. See you out there!

Desert Foothills Land Trust works with landowners, communities and partners to protect the most special and important natural areas in the Arizona communities of Carefree, Cave Creek, north Scottsdale, north Phoenix, Anthem and New River. The Land Trust has permanently protected 620 acres on 17 preserves, many of which are open to the public for exploration and passive recreation. In 2010, the Land Trust was awarded accredited status by the national Land Trust Accreditation Commission – a mark of distinction in the land trust community. More information is available at www.dflt.org or 480-488-6131.