BY MARIELLE D. MARNE | NOVEMBER 7, 2012
Sluggish drain? Water pressure not up to par? Call Mr. Rooter Plumbing for swift service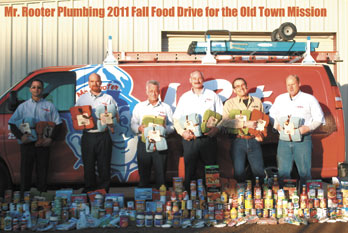 It can certainly ruin your day if you're running late and go to hop in the shower and there's no hot water. Or, you press the handle to flush the toilet, and it, well, doesn't flush.
Plumbing, like most things, needs to be maintained. The folks at Mr. Rooter Plumbing know this, and they want to pass on their knowledge to their customers.

Owner Tim Roth offered, "First and foremost our focus is customer service." Roth and his Mr. Rooter team strive to educate customers, so they don't have plumbing predicaments in the first place. Did you know washing machine manufacturers advise turning off the water supply after each use? And that inlet lines should be changed every five years? "We recommended using braided lines," Roth said, as they are much less likely to burst. Such pearls of wisdom could save you from walking into a flooded home after a long day at the office.

Of course, Mr. Rooter is available 24/7 to fix problems that do arise, with no overtime charge. They refrain from quoting over the phone. "We want to assure we know what the problem is and come to the house to diagnose it accurately," Roth explained. As part of their stellar service, Mr. Rooter performs a complimentary plumbing checkup with every service call.

Because of their continued success, "We are looking to expand and are always looking for new, good people to join us. We train our own guys," Roth added.

Protect your pipes, save your sanity and assure your water flows faithfully by calling Mr. Rooter Plumbing at 602-258-0599.