BY MARIELLE D. MARNE | NOVEMBER 7, 2012
Bodyworks by Adrienne Bouchard, massage that works for body and soul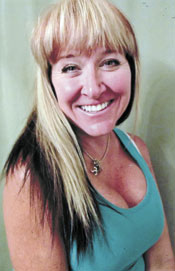 CAVE CREEK - You don't have to be a broken down cowboy to benefit from massage therapy! You don't even have to be active to see results from a session or two. Sitting at a computer hours a day can cause neck and shoulder muscles to tighten, resulting in headaches. No one sees this more often than Adrienne Bouchard, L.M.T. of Bodyworks, LLC by Adrienne Bouchard. Her clients have seen the magic happen and they are believers, wanting to share her expertise with family and friends.
"I have so many referrals from people who have tried it and have gotten relief. Wives refer husbands, brothers refer sisters. It's effective. The body can truly heal itself; sometimes it just needs a little help, and that's why my mantra is 'healing one body at a time.'"
While Bouchard offers massages from cranial sacral to Swedish, she has several specialties, one being lymphatic. "It's so therapeutic," she explained. "It's ideal for those who can't tolerate a traditional massage." Bouchard recommends it for cancer patients, those with fibromyalgia, even those going into surgery or post-surgery to remove anesthesia and toxins.
Deep tissue is another massage favorite. "It's for those who want to be a little more than just relaxed. It, too, breaks up toxins, facia and tight places in the body that won't be flexible."
In order to receive the optimal massage, whether it be post-injury relief or a decadent and soothing session for yourself, Bouchard will listen and tailor treatments to you. She'll even go mobile and has "Perfect by the Poolside" and "Girls Night In!" packages with massages and girl time together.
Call Adrienne Bouchard at 480-227-4513, talk to her and be prepared to be amazed. Often she's witnessed clients go from severe to no pain in a single session. Her new office location is 6042 E. Valley Way #1, in Cave Creek.