"MY VIEW" BY DON SORCHYCH | OCTOBER 17, 2012
Propositions from My View 10-10-2012
Elections
Below I have given the Sonoran News Publisher Picks for votes in the November 6 election:

Proposition 114. YES! This proposition will forbid lawsuits from criminals who are hurt in the commission of a crime.

Proposition 115. NO. This proposition is long and complex and all the information is available in Ken Bennett's mailing of "What's on my Ballot." Although the judicial system leaves much to be desired this doesn't fix it. Try again.

Proposition 116. YES. This proposition is supportive of small businesses and has no opposition in Bennett's report.

Proposition 117. NO. This proposition does nothing to limit the annual increase of property tax. Although it is labeled as an improvement, it does little or nothing to save taxpayers money.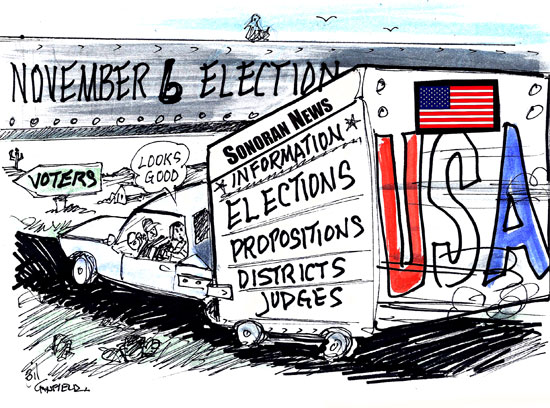 Proposition 118. YES. Changes distribution formula of State Land's Endowment Fund. No opposition.

Proposition 119. YES. This proposition gives more latitude to State Trust officials to protect the military and a process for land exchanges. There is no opposition.

Proposition 120. YES. This proposition would repeal Arizona's disclaimer of federal public lands and declare Arizona's sovereignty over federal public lands in Arizona. There is substantial opposition to this proposed action, but by liberal federalists including Cave Creek's Sara Vannucci.

Proposition 121. NO. This would change our current system of party primaries to one without party affiliation. The two winners would advance to the general election, regardless of party affiliation.

Proposition 204. NO!!!! This is a permanent 1 percent sales tax increase. The increase in revenue goes to the same people and organizations which wrote the bill. The voters agreed to give Governor Brewer a temporary 1 percent sale tax and the often stated truth is happening. It happened here as soon as Spur Cross Ranch was paid off and the town attempted to hit the town voters with another equal property tax for fire protection. Voters defeated it by almost double. Taxes are high enough; we don't need more.

About half the revenue created by this proposition would go to schools that are notoriously deficient in use of funds and are union controlled.

Note that the governor, top legislators and Goldwater Institute are adamantly opposed.
Elections
President and Vice President: Mitt Romney and Paul Ryan. Their win is vital to save our future as a nation.

Senate: Jeff Flake is necessary to give Republicans control and to get rid of Harry Reid. His opponent Richard Carmona is a libtard Obama apologist.

House of Representatives: Vernon Parker to retain control of the House. His opponent is ultra liberal and an Obama fan.

Arizona Corporation Commission: Susan Bitter Smith, Robert "Bob" Burns and Bob Stump.

District 1, Federal House of Representatives. David Schweikert to retain control of the House.

District 1, State Senate. Steve Pierce (currently Senate President)

District 1, Representative. Karen Fann, Andy Tobin (currently Speaker of the House).

District 15, State Senate. Anyone but Nancy Barto. She originates bills to help friends and supporters. She originated the bill to allow CCUSD to use bond funds for other purposes than year 2000 voters approved. Goldwater Institute sued and won.

Her opponent Dennis Grenier, a Liberatarian, is far superior to Barto.

Barto lies, too numerous to mention here, but she claims she will stop illegal immigration even though she led a walk out to defeat five Russell Pearce bills that were designed to stop illegal immigration.

District 15 State Representatives. Republican John Allen, which leaves one other Republican, Heather Carter. Carter is not worthy of a vote, is a school union supported candidate and only their vast donations allowed carpet bombing of signs that gave her current term to her.

District 1, County Board of Supervisors. Conservative veteran Andy Kunasek is the obvious choice. He is the opposite of his opponent Lilia Alvarez, the wife of her despicable husband, Randy Parazz. They both were Latino activists against Joe Arpaio and Russell Pearce.

District 2: Steve Chucri over Democrat David Ortega.

CCUSD School Board: If we ever want to see a change in the culture and leadership of the Cave Creek Unified School District, the governing board must change. Janet Busbee, Jay Kules and Karen Tuffs are all free thinking individuals who are committed to that change.

Central Arizona Water Conservation District: While we know Linda Brickman, who is a solid conservative, Russell Pearce also recommended her along with Janie Thom, Gayle Burns, Jerane McGrath and Brett MeCum.

Maricopa County Special Health Care District: With minimal information available, other than the company they keep, it appears Gerald Cuendet and Mark Dewane would be the more conservative choices.

And last, but by no means the least, vote for the best sheriff in the country, Joe Arpaio. Arpaio is being assaulted by the administration and locally by "financially troubled" The Arizona Republic. Their day after day articles by J.J. Hensley and others about unsolved sex crimes is over the top and clearly is intended to defeat Joe at the polls. Don't let it happen; there will never be another Joe and count your blessings that he will still run.

I have received requests about what judges to vote for. With the present situation the fox is in the chicken coop, where lawyers rate judges. After all judges are the bosses of lawyers.
I would ask readers to send us their experiences with judges we can use for the next election. I think ex-county attorney Andy Thomas was right; the judiciary needs attention and change.
In my personal court cases I found Judge Edward Ballinger Jr. to be an excellent judge, not because he ruled in my favor, but he refused to consider out-of-state-laws, saying it is the legislature's job to make laws and he would not rule from the bench.

However, when the case was appealed we were stunned by the appeals court doing the opposite. Even though there were no Arizona laws requiring me to pay for road maintenance, they ruled as a matter of equity we must pay what a return to the lower court ruled we should pay. Perhaps a million people living on private roads can get stung by this rule from the bench. What was a right now requires a lawyer. Of the three that decided they can become legislators were concurring judges Patricia K. Norris (on the ballot), Patrick Irvine (not on the ballot) and Presiding Judge Lawrence F. Winthrop (not on the ballot). If you believe courts should adhere to Arizona Law and refuse to create law, then vote against these three; they are a disgrace.