OCTOBER 17, 2012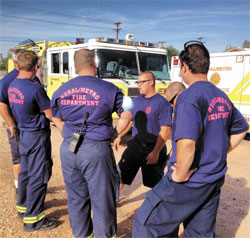 MESA – Southwest Ambulance and Rural/Metro Fire Department are joining EMS professionals across the country in recognizing National Breast Cancer Awareness Month. During the month of October, Rural/Metro is showing its support by allowing employees to wear custom uniform T-shirts - featuring pink logos and lettering – while on duty.

Following the pink ribbon theme of the Susan G. Komen Breast Cancer Foundation, Southwest Ambulance created two special vehicles to promote breast cancer awareness and emphasize the importance of regular breast self-exams. The awareness ambulances showcase Southwest Ambulance's commitment to educate the public about the second most common form of cancer in women. Both ambulances are on display throughout October.

The National Breast Cancer Awareness Month organization is a year-round resource for breast cancer patients, survivors, caregivers, and the general public.
Visit www.nbcam.org.