BY MARIELLE D. MARNE | OCTOBER 17 , 2012
CAVE CREEK – As the final quarter of 2012 draws to a close, don't forget to make medical/dental appointments not only for optimal health but to deduct those expenses from state taxes.
BY MARIELLE D. MARNE | OCTOBER 17 , 2012
Kudos to State Farm's Bill Mulliniks for 40 outstanding years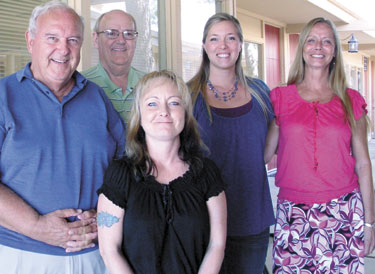 CAREFREE – Congratulations to Bill Mulliniks of State Farm insurance. This month, Bill celebrates forty years both in the insurance industry and with State Farm. Bill and his long-term staff, Ruebie, Kathy, Mickey and Nicole, are familiar faces in Carefree. They are easy to find since the office has been in the same location since 1983! Bill would like to thank his clients and his good neighbors who have been part of his success. For any of your insurance – home, auto, life, renters – or investment needs, give Bill or his staff a call at 480-488-2101. The office is located at 748 Easy St. in Carefree.
Business to Business
Come to Dana Law Firm's upcoming FREE seminar on the 10 most common mistakes in Estate Planning on Thurs., Oct. 18, at 2 p.m. or Tues., Oct. 30, at 10 a.m. – 8817 E. Bell Road, # 201. Call 480-515-3716 or visit www.DanaFirm.com to reserve your seat.

Now open – Z's Asian Fusion featuring eclectic Far Eastern cuisine and spirits! Ever changing lunch and dinner menu prepared to your taste. 6554 E. Cave Creek Rd., Suite 14. Look for the American Flag mural! Call 480-488-7055.

"An ounce of prevention is worth a pound of cure" applies to all living things. At Dove Valley Animal Hospital, new patients receive 1/2 off an exam through Dec. 31, 2012. For an appointment or information call 480-595-5731 or visit dovevalleyah.com.

Call Bodyworks by Adrienne Bouchard, L.M.T. for Mobile Massage Therapy. Adrienne offers deep tissue, trigger point and lymphatic massage. Call 480-227-4513 or e-mail adriennebouchardaz@gmail.com. Office location: 6042 E. Valley Way behind C4.

Farm Bureau Financial Services – Leslie Jensen can help you through all stages of your life. Call 480-575-0710 today for Auto, Home, Renters, Life, Annuities, Farm, Ranch, Business, College and Retirement. 6554 E. Cave Creek Rd., Ste 4.

AC by Jay has expanded from primarily heating and cooling (HVAC) into full-on plumbing. They do it all! AC by Jay has an A+ rating with the BBB. Visit www.dialcomfortaz.com or call for 24/7 service at 480-422-4335.