OCTOBER 10, 2012
Deserts, mountains, wild horses stir passion, creativity of new Hidden in the Hills artist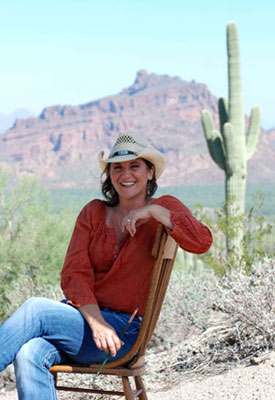 CAVE CREEK – She began her career as one of the first female draftsmen at General Motors in Detroit, specializing in auto body design and styling. She also operated her own marketing company and with her husband designed and built their home in Michigan. Then Sandi Ciaramitaro and her family made a move that would forever influence her award-winning artwork.

"Initially my family came to visit our snow birding parents," Ciaramitaro said. "We immediately fell in love with Arizona. I was captivated by the desert at first sight," she said. "It's why I paint with such passion."

Although Ciaramitaro has been a juried member of Sonoran Arts League for years and has been featured in Southwest Art Magazine, 2012 will be her first showing in the Hidden in the Hills Studio Art Tour and Sale, the signature event of Sonoran Arts League.

"I'm a member of many prestigious art organizations," she said. "But participating in the Hidden in the Hills Tour is especially gratifying. To be among gifted artists and friends, to meet so many art enthusiasts and collectors is exciting."

Ciaramitaro has sketched and painted all her life for release and relaxation. Since becoming a professional artist she realized creating in oil and watercolor is a labor of love.

Every week you'll find Ciaramitaro, her easel and oil paints perched somewhere overlooking flora, fauna, mountain vistas or even Tucson barrios. Some of the artist's favorite spots include Tonto National Forest, Canyon de Chelley and Sonoran McDowell Conservancy.

Her oil paintings are created plein air (in the open air) and Alla Prima (painting in one go, finishing the piece on site.)

The artist considers herself fortunate to live adjacent to the Tonto National Forest, overlooking Red Mountain, the Salt River and the wild horses that roam there.

"I love painting wild horses in the Tonto," she said. "Early in the morning as the sun is rising I can often hear neighs before these magnificent animals come into sight. It's heavenly – I'm so taken aback that I have to remember to breathe!"

This artist entrepreneur firmly believes in supporting local Arizona companies. "I use museum-grade quality linen on birch panels for my paintings, because my collectors deserve the best. SourceTek of Scottsdale handcrafts their panels one at a time for superior quality.

My oil paintings are framed in 25 to 100 year old reclaimed Arizona ranch wood. I work with Ron Bacher of Old Wood Creations in Phoenix who designs and handcrafts frames for each unique piece of art.

Known as the "Good Samaritan Artist", Ciaramitaro always loads her truck with Fix-A-Flat just in case she runs into cyclists, fellow painters or off-road enthusiasts in need. Extra water and first aid kits are also on hand and readily available.

"I so enjoy helping people," the artist stated. "Whether it's donating to the Foundation for the Blind, raising funds for Sunshine Acres Children's Home or participating in the success of Cancer Relay for Life, I do what I can. I can't think of living any other way!"

The artist admittedly spoils her collectors. Anyone purchasing an original painting from Ciaramitaro receives a gift every year. It's a set of 12 greeting cards and envelopes of the artwork they own. Printed on the back is the title of the work and the private collector's name.

Among Ciaramitaro's greatest prides, other than her husband and children, is her Italian heritage. "My ancestors go back to 15th century Italy. My grandparents came to America in 1914 with $40 that they used to start a beverage company. They were self starters, true entrepreneurs. And so am I. It must be in my genes."

The rest of Ciaramitaro's story can be found in her newly released cookbook, along with her family's secret Italian recipes and of course her artwork.

You can meet the artist while she paints in Studio 28 on the Hidden in the Hills tour at 6240 E. Quail Track Drive, Scottsdale. Ciaramitaro will also offer holiday ornaments, greeting cards and her new cookbook, signed for purchasers. Artists also at Studio 28 are host Jeanne Bonine, who works in watercolor and oil and sculptor Craig Bergsgaard.

Northeast Mesa is home to Ciaramitaro, her husband Paul, daughter Marissa and son Vinny.
For more information about the artist, visit www.sandic.me, contact tropical02@cox.net or call 480 861-1010.

Presented by Sonoran Arts League, the 16th annual HITH is a free, self-guided tour throughout Cave Creek, Carefree and north Scottsdale the last two weekends in November: Friday – Sunday, Nov. 16-18 and Friday – Sunday, Nov. 23-25, from 10 a.m. to 5 p.m.