BY LINDA BENTLEY | OCTOBER 3, 2012
Senate Concurrent Resolution (SCR) 1020 will appear on the ballot as Proposition (Prop) 114, Crime Victim Protection from Liability for Damages, and in straight-forward, simple language proposes to amend the Arizona Constitution so that crime victims cannot be subject to a claim for damages by a person who is harmed while attempting to engage in, engaging in or fleeing after having engaged in or attempted to engage in conduct classified as a felony offense.
BY LINDA BENTLEY | OCTOBER 3, 2012
CAVE CREEK – During Monday night's Call to the Public, Gary Kiernan took to the podium with some terse words for the town.

BY LINDA BENTLEY | OCTOBER 3, 2012
PHOENIX – Danny Wise, the former Scottsdale CPA who was indicted in May 2009 on 15 felony counts of theft and fraudulent schemes and on another 30 counts of theft and fraudulent schemes in December 2009 for crimes he allegedly committed between April 2006 and May 2008 has been granted yet another continuance.
BY LINDA BENTLEY | OCTOBER 3, 2012
WASHINGTON – On Monday the U.S. Supreme Court issued its scheduled order list for the cases distributed for conference on Sept. 24, including the petition submitted by Attorney Van Irion of the Liberty Legal Foundation on behalf of David P. Welden, et al v. Barack Obama.
OCTOBER 3, 2012
Local MCSO Commander Rich Burden promoted to Captain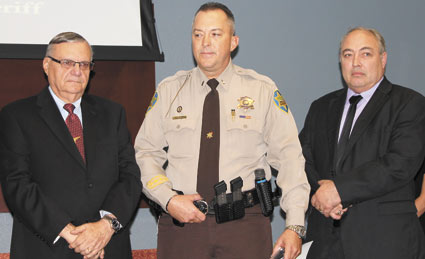 Cave Creek MCSO Commander Lieutenant Rich Burden (c) was promoted to Captain by Sheriff Joe Arpaio (l) and Deputy Chief Brian Sands (r) during a September 21 Promotion Ceremony at the Maricopa County Sheriff's Office Training Center in Phoenix. He was one of thirteen individuals promoted within the MCSO organization. Congratulations! Well deserved, Captain Burden!
OCTOBER 3, 2012
William J. Sheehan Eagle Project
Cave Creek Troup 15
Will Sheehan's Eagle Project is not only something of which he can be very proud, it elicits pride from the entire community. Sheehan donated over 300 hours and solicited all donations for the project. Visitors to Cave Creek are now greeted by a beautiful entry sign. Eagle Scout is the highest rank attainable in the Boy Scouting program. The Eagle Scout Project is the opportunity for a Scout to demonstrate leadership of others while performing a project for the benefit of any religious institution, any school or his community. Kudos, Will!