BY LINDA BENTLEY | OCTOBER 3, 2012
Danny Wise granted 10th continuance in fraud and theft case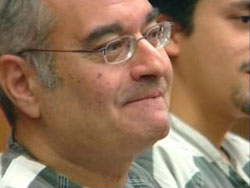 PHOENIX – Danny Wise, the former Scottsdale CPA who was indicted in May 2009 on 15 felony counts of theft and fraudulent schemes and on another 30 counts of theft and fraudulent schemes in December 2009 for crimes he allegedly committed between April 2006 and May 2008 has been granted yet another continuance.

The first case was originally scheduled for trial in September 2009, but since the cases have been combined, Wise has been granted 10 continuances.

Last Thursday, following extensive discussion as to why the discovery testing had not been completed prior to the court-ordered date, Maricopa County Superior Court Judge David Glass, who found the requested delay to be indispensable to the interests of justice and extraordinary circumstances existed, ordered the trial date continued to Nov. 5, 2012.

While working as a CPA, Wise, who is out on bond, is accused of stealing money that was to be forwarded to the IRS and/or other taxing authorities on behalf of his clients. He then forged copies of cancelled checks in an attempt to prove money was in fact paid to those agencies.

Meanwhile Wise's $70 million Ponzi scheme, in which he is accused of conning more than 120 "investors" in at least 13 states out of money, some, their life savings, began to collapse.

Involuntary bankruptcy proceedings were filed against Wise in November 2008 in an effort to freeze his assets.

In October 2009, Wise was denied discharge and his real estate holdings and personal property were ordered sold at auction.

Wise lost homes in Flagstaff and Desert Mountain in Scottsdale as well as a condo in Manhattan.
Scheduled for a jury trial in federal court on July 9, 2013, Wise is facing 102 felony counts of mail fraud, wire fraud and transactional money laundering in that case.