OCTOBER 3, 2012
Contestants sought for Wild West Days bath tub race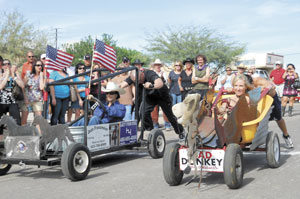 CAVE CREEK – Ever see grown men and women race to the finish in decorated bathtubs? One of Wild West Days' funkiest events, the bathtub races are a highlight of Arizona's largest western event, which runs November 2-4, 2012.

During the race, to be held on Saturday, November 3 at 2 p.m., up to 12 bathtubs will make a mad dash to the finish line in modified tubs specially equipped to sprint down the center of Cave Creek Road. One person acts as the driver while the other is the tub pusher.

Wild West Days is seeking contestants for this unique western event. Please contact Kim Brennan for more information and an entry form at 602.882.1442.

Wild West Days, now in its 10th year, is an annual experience hosted by the Cave Creek Merchants & Events Association. A portion of the proceeds from the event will benefit non-profit and horse-related organizations in community to help to preserve the community's western heritage.