BY MARIELLE D. MARNE | OCTOBER 3 , 2012
CAVE CREEK – If you've not been to Big Bronco since it opened in 2000, you're in for a surprise. First and foremost, it's expanded. You can find anything with a southwest cowboy flair, from furniture to accessories to handbags to kitchenware. There's even "Bronco," the mascot cat, who showed up four years ago a hungry stray. Big Bronco truly embodies what Cave Creek is all about, what the West was founded on. The place feels like a throwback, yet you can find something to complement any architecture. The merchandise is ever-changing and owner Faith Weinberg is particularly looking forward to the fall season that lays the groundwork for her Lucky Thirteenth year in 2013.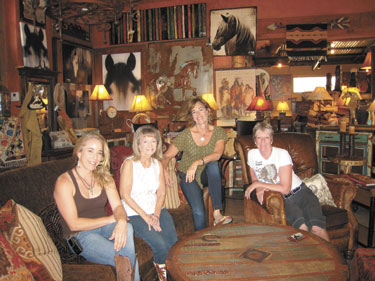 The furniture is high quality, and much of it comes from reclaimed woods or other recycled materials. Not only is that important to Weinberg, but it's good for the environment! It also means there are plenty of one-of-a-kind treasures at Big Bronco.

If you're not sure how to furnish a room or even a whole house, the staff has design expertise. "We listen to the customer, find out what they want. Of course, we can special order since we do work with smaller manufacturers," Weinberg explained. Shipping and delivery are all options as well. "Anything that needs to be done, we can work it out," she added.

Stop in Big Bronco at 6620 E. Cave Creek Rd. and say hello to little Bronco, the friendly feline. For details, see bigbroncocavecreek.com or phone the furniture barn at 480-575-1357 or the general store at 480-575-7025.

Photo by Shari Jo Sorchych: The staff at Big Bronco (l-r): Laura Lowe, Kathie Carpenter, Faith Weinberg (owner) and Beth Rabedeau.