Unofficial Election Results
BY LINDA BENTLEY | AUGUST 29, 2012
SCOTTSDALE – Gary L. Eisenmann, 43, was taken into custody by Scottsdale police last week on a misconduct involving weapons charge, a class 4 felony.

Eisenmann, a convicted felon who has not had his rights restored, is precluded from owning guns.

BY LINDA BENTLEY | AUGUST 22, 2012
Bonner is suspected of charging the union for personal expenses to carry on a decade-long affair with his mistress in Chicago
San Diego – Terence J. "TJ" Bonner, retired U.S. Border Patrol agent and former president of the National Border Patrol Council (NBPC), self surrendered to the U.S. Marshal's Office on Aug. 20 after being indicted by a federal grand jury on 12 felony counts of conspiracy to commit wire fraud, wire fraud, and aiding and abetting with criminal forfeiture.

BY LINDA BENTLEY | AUGUST 29, 2012
Although Van Allen was not the subject of any of Peirce's complaints, Peirce said Wise's letter 'takes a bullying tone'
CAREFREE – One week from the day former Councilman Jim Van Allen resigned from council for "health issues and personal reasons." He received an "Official request for Public Records" from Town Clerk Betsy Wise.

BY LINDA BENTLEY | AUGUST 29, 2012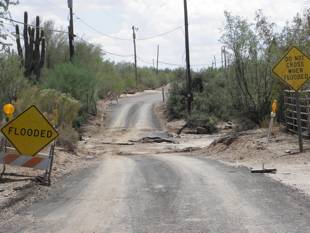 Photo by Linda Bentley
Cave Creek road maintenance workers were out clearing roads around 2:30 a.m. on Thursday, after torrential rains last Wednesday night had every wash in town running, as evidenced by this torn up stretch of road on 50th Street just south of New River Road. By 5 a.m., crews had Spur Cross Road passable from Cave Creek Road to Spur Cross Conservation Area. According to Town Marshal Adam Stein Canyon Creek Crossing remained impassable on Thursday morning. However, he noted it is a private road.