JUNE 27, 2012
Desert Stages Theater Presents 'Rent'
Fri., July 13 – Sun., Aug. 11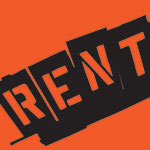 Scottsdale, Ariz. (June 20, 2012) – Taking on Desert Stages Theatre's Mainstage is the provocative and unfiltered Rent, premiering Fri., July 13 – Sun., Aug. 11.

Set in the East Village of New York City, Rent follows a group of young impoverished artists and musicians through their struggles with addiction, sexuality and survival as the looming shadow of HIV/AIDS encroaches. This production contains strong language and sexual content.

While they face fears and tackle problems, they discover the importance and power of love.
The rock musical is a journey of finding in love, discovering your voice and living for today. Set during the thriving days of Bohemian Alphabet City, Rent puts an edgy spin on the timeless tale of the starving artist.

The compelling production features songs such as "La Vie Bohème," "Rent," "I'll Cover You," and "Seasons of Love."

Elevating the profound musical is the performance of a live band alongside the talented cast.

In an interwoven and diverse group, Sean Mullaney will portray Roger, a musician; Sam Wilkes will play Mark, a filmmaker, Damon Bolling will portray Collins, a philosopher; Michael Thompson will play Benny, the landlord; Alex Ncube will portray Mimi, a dancer; Lynzee 4man will play Maureen, a performing artist; Chanel Bragg will portray Joanne, a lawyer; and Lucas Coatney will play drag queen and musician, Angel.

Taking the audience on an emotional roller coaster, Rent debuts in Desert Stages Theatre's Mainstage Cullity Hall, sure to captivate its audiences.

Rent premiered in New York City, off-Broadway in January 1996, and was written by Jonathan Larson, who suddenly died the night before its first performance. The musical went on to play Broadway from April 1996 through 2008 and closed as the ninth longest-running Broadway show at the time. Rent is based on Giacomo Puccini's opera La Bohème and won a Pulitzer Prize for Drama, several Tony Awards, including Best Musical and several Drama Desk Awards, including Outstanding Musical. In 2005, Rent was adapted into a motion picture.

Tickets Online & by Phone. Tickets are available at www.DesertStages.org; or by phone, 480.483.1664, and also at the theatre box office, 4720 N. Scottsdale Road, north side of Scottsdale Fashion Square, next to Coco's restaurant. Tickets are $22 in advance or $25 day of performance.

About Desert Stages Theatre. A bustling community playhouse, Desert Stages Theatre in Scottsdale, Ariz., is a nonprofit 501 (c) 3, founded in 1995, and presents more than 400 performances every season, from August to July. Three show schedules occur throughout the year: Actor's Café performances in the intimate, proscenium-style 65-seat theatre; the Mainstage Series in Cullity Hall, an inventive theatre-in-the-round; and the Children's Theatre Series, also performed in Mainstage Cullity Hall. DST also operates a theatrical academy, regularly hosts talent shows ("Show Your Stuff"), and offers a variety of music, dance and other classes open to the community. DST is led by cofounder and executive director Laurie Cullity; and artistic director Terry Helland. Additional cofounders are Joan Thompson and the late Gerry Cullity. Included in each DST season are children's productions of original scripts, musical scores and lyrics by cofounder Cullity whose works are still relished six years after his passing. Desert Stages has developed thousands of thespians, young and old, many with compelling personal stories of triumph and major stage success, and all of whom perform at DST for the pure love of the theater.