MAY 23, 2012
Judith Durr, Roger Kull at 38th Annual Western Art Show, Phippen Museum
PRESCOTT, Ariz. – Master Artist Judith Durr and Master Sculptor Roger Kull are greatly anticipated at the 38th Annual Phippen Museum Western Art Show May 26-28 for this visual feast of Western Art.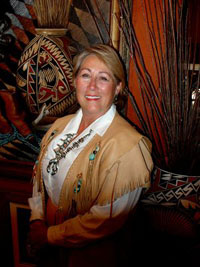 Judith Durr proudly claims her Native American heritage. Raised in the Southwest, a native of Arizona, Judith Durr resides in Cave Creek, Arizona with her artist husband, Roger Kull.

"My Southwestern oil paintings are created from respect for my Choctaw/Cherokee heritage. I want to preserve the legacy of the First People's artifacts and rugs portrayed in my oil paintings. But, I also paint artifacts from tribes and clans throughout the Americas. I hope that by capturing the emotions of the viewer, my objective is illusion," said Durr.

One of Roger Kull's masterworks to be displayed is his leather sculpture, Old Santa Fe. The piece incorporates the look of weather wood, tile and stucco on Kull's usual medium of leather.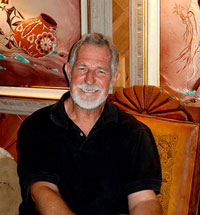 "I like my art to reflect the timelessness of the Santa Fe lifestyle and the environment that inspires it," Kull says. "'Old Santa Fe' is part of my Santa Fe collection. The sculptures are created with the Western Four Corners Historical View, sculptures with pottery and embedded turquoise. I have over 14,000 collectors and each leather sculpture guarantees originality and is a one of a kind."

Both Durr and Kull are looking forward to the Phippen Museum 38th Annual Memorial Day Weekend May 26-28, 2012.

Durr, a past award winner at the Phippen Museum Show, has been participating since 1991.

"This is one of the finest Western Art Shows in the entire country," Durr shares. "Every year I am amazed at the collection of incredible artists that present their work during this weekend."

Kull says, "Thirty years ago when I was included in the Phippen Show, it was a real honor. Now to be included again this year is a real honor … None of that has diminished over time. It is wonderful to be invited back this year."

The Phippen Museum Western Art Show and Sale – Arizona's premier outdoor western art sale – is held each year in downtown Prescott, Arizona, the Cowboy Capital of the American West. The 2012 event will feature over 120 talented artists from all over North America in booths surrounding the historic courthouse.

This annual juried show features established and up-and-coming Western artists who create 'Art of the American West' in oil, watercolor, acrylic, mixed media, pastels, sculpture and drawing. And many of today's most well known western artists got their start as a juried participant. Not only will you be able to see some of the greatest examples of Western art in America today, you will also be able to meet participating artists in an informal, outdoor setting and purchase pieces directly from the master.

The Phippen Museum Western Art Show and Sale has been a Memorial Day weekend tradition in Prescott since 1974. The Phippen Museum believes the true spirit of the American West is preserved in its art. This show brings together artists of the highest caliber, art enthusiasts and collectors from all over the country to celebrate Prescott's rich western heritage and culture.
MAY 23, 2012
Ian McFeron live at Cave Creek Coffee Co.
Ian McFeron, whose lyrical prose has been compared to Bob Dylan, Ryan Adams and David Gray, weaves together a variety of roots-Americana traditions to create his own unique form of roots-oriented American music.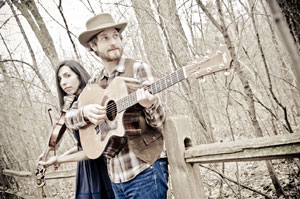 "2011 was a big year for us," McFeron says. "We recorded the new album in Nashville with some of our heroes, toured the United States from coast to coast twice, and played our first international tour." His sixth and newest album, "Summer Nights" was recorded and mixed in just ten days at Studio G! in East Nashville, Tennessee. The album was produced by Patty Griffin's long-time guitarist and musical collaborator, Doug Lancio and features musical performances by Lancio as well as Ryan Adams and the Cardinals' drummer Brad Pemberton, Ryan Adams' bassist Billy Mercer, keyboardist and Seattle-native Micah Hulscher, and McFeron's long-time musical partner Alisa Milner on fiddle and cello.

After the Spring release of "Summer Nights" McFeron and Milner embarked on a three month, 68 show tour of the U.S. followed by a summer packed with regional performances with the band. After two years of living on the Interstates of America, McFeron pushed across the Atlantic, adding 32 fall performances spread throughout England, Wales, Scotland, and Ireland.

In 2012, McFeron is looking forward to time in the studio. "I'm always writing music and looking ahead to the next album project," he says. "That's what really keeps the wheels rolling for me." So whether he is planning another world tour, or recording albums that make friends out of heroes, you can always bet Ian McFeron is dreaming big.

Ian McFeron takes the stage at the Cave Creek Coffee Company on Friday, June 1st, at 7:30 p.m., joined by long time musical partner and accompanist Alisa Milner, a Texas-style fiddler and harmony vocalist.

For more information about this show, please contact Todd Newman by email at todd@ cavecreekcoffee.com, or contact the Cave Creek Coffee Company by phone 480-488-0603 or visit them on the web at www.cavecreekcoffee.com.

For more information about Ian McFeron, please contact Ian by e-mail at ianmcferon@gmail.com, by phone at (206) 369-1389, or visit him on the web at: www.ianmcferon.com.