MAY 16, 2012
C. Nicholas Johnson returns to Desert Foothills Community Education with Carnival of the Animals
Artists in Residency Summer Program
Performances at Cactus Shadows Fine Arts Center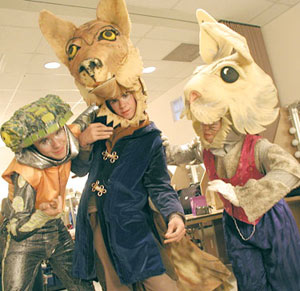 Elephants are useful friends
Equipped with handles at both ends

The kangaroo can jump incredible
He has to jump because he is edible

wrote famed poet Ogden Nash in humorous verses to accompany Saint-Saëns' whimsical Carnival of the Animals, a "Grand Zoological Fantasy." This "salute to feathers, furs and fins" begins with the Royal March of the Lion and romps through an outrageous animal kingdom in a production conceived by the extraordinary C. Nicholas Johnson of Alithea Creations.

One of the most unique summer programs in the Valley (for over twenty-five years), the C. Nicholas Johnson's Performing Arts Residency is a creative performing arts program that allows students to substantively participate in the development and production of an original work of art, while learning or refining theatrical movement, dance, acting, mime, lighting, props, wardrobe and make-up.

This year, the Residency is divided into three age-appropriate theatrical workshops:
June 4 – 15 Carnival of the Animals (Grades K – 3 & Grades 4 – 6) $150
May 29 – June 1 Stagecraft Workshop (Grades 5 – 12) $120
June 4 – 15 Advanced Performing Arts Residency (Grades 6 – 12) $300

Performances of Carnival of the Animals take place on the Main Stage of the Cactus Shadows Fine Arts Center on Saturday, June 16 at 3 p.m. and 7 p.m.

The Stagecraft Workshop is for students who are interested in the backstage business of the theatrical world. The Workshop provides hands-on instruction in the creation of masks, costuming, props and sets for Carnival of Animals and the works created by the Advanced Performing Arts Residency ensemble. Technical internships are available.

The Advanced ensemble will be working on theatrical movement pieces from Johnson's prestigious portfolio of masterful vignettes, such as Forward Momentum, Splat, Old West Saloon, and The Boat. Performances will take place at the Cactus Shadows Fine Arts Center on June 16.

Why settle for the ordinary, when you can participate in the exceptional?

Times, fees, details and internships vary for the individual programs. Visit www.performingartscampAZ.com or the Community Education page at www.ccusd93.org for information. For additional information, call DFCE at 480.488.1090 or Evelyn Holbrook, Director of Desert Foothills Community Education 480.575.2070.