MAY 9, 2012
It's a busy summer at Desert Foothills Theater
Summer Film Camp
Lights, camera, action! Have you ever wondered what it was like to make a film? Or, have you made a film and want to learn more about the art of filmmaking? Now is your opportunity to take part in a two week film camp that will help you to write, produce, direct and star in your own film!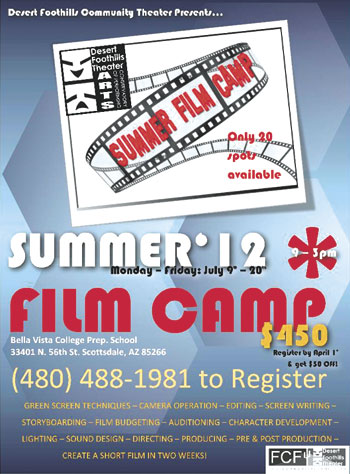 What you will learn: Green Screen techniques, camera operation, editing, screenwriting, story-boarding, film budgeting, auditioning, character development, and lighting, sound design, directing, producing, pre and post-production.

At the end of camp you will go home with a completed short film that you created! Instructors Anna Paris and Joe Rochel collectively have over 20 years of film expertise to offer. They will help guide your team from the beginning, middle to end process of how to make a film. All of the completed films will be screened at an end of the summer party! Come out and join us, and be a part of our creative community of film makers.

Camp registration is open to 3rd-12th graders.
Dates: July 9-20 from
9 a.m. - 3 p.m.
Location: Bella Vista College Preparatory School
33401 N. 56th St. Scottsdale, AZ 85266
Cost: $450
Only 20 spots available!
Register online now: www.desertfoothillstheater.

Advanced Performance Camp
Strut your stuff!!!

Love to perform? Then this camp is for you. We will be developing a program that we can tour throughout the valley. This group will be the promotional group representing Desert Foothills Theater at a variety of events throughout the valley.

Work with our fabulous director, Sara Bernstein and learn a holiday show. Once you complete the camp, you will be an official member of Singular Sensation and will continue to rehearse once a week throughout the year!

In future years, participation by new members in this program will be audition only. Get in on the ground floor and become the "face" of DFT.

Dates: July 23-27 from 9 a.m. - 4 p.m.
Location: TBD
Cost: $190
Director: Sara Bernstein
Only 25 spots available!
Register online now: www.desertfoothillstheater.

KidStrums Guitar Class
DFT Conservatory of Music (COPA) has a mission of providing high-quality performing arts education. We are pleased to welcome Claudia Tulip to our faculty to provide musical instruction opportunities for our older students and movement and music for our youngest students.

KIDSTRUMS is for any child wishing to dive deep into the heart of guitar playing, step by step. Your child will have fun naming guitar parts, tuning, learning chords, singing and playing familiar songs. Yellow Submarine, Eleanor Rigby, classic folk, reggae and rock as well as originals are our playground. Basic song-writing is introduced using simple chords learned in class and everyday experiences as lyrics. Fun, focused and fantastically inspiring!

Where: DFT COPA at FCF-Holland CC on Tues., from 4:15 – 5 p.m.
Dates: 8-Weeks, starting June 12 - 31 (no class on July 3).
Instructor: Claudia Tulip
Cost: $136
Students will need to bring guitar, music stand and tuner
Required music book and CD available for purchase at class for $15.
MAY 9, 2012
Host families needed for three weeks in July
Host families are needed for enthusiastic French high school students. This is the 18th year that a group of French high school students will be in the Valley for a three week stay in July.

This exchange to Arizona is sponsored by ATIL-CCL a student exchange program based out of Paris and Lyon, France. Volunteer host families (with teenagers optional but preferred) are needed to provide a true Arizona experience.

The French students are actively hoping to improve their English, learn about our state, discover the American culture, and share in an American family experience.

Contact Randy and Frym Hare, Phoenix ATIL-CCL Coordinators, for more details. Call 623-561-2656- Home; 623-826-4330 Cell, or visit the website at www.arizonastudentexchange.com.
MAY 9, 2012
After School Programs:
We know it's May and the school year is just winding down, but it's time to start thinking about after school programs for next school year. Thrive After Three: Scottsdale's after-school program maybe just the thing you are looking for. With nine locations throughout the city, it is the program for you. Programs will start Wednesday, Aug. 8, 2012 and will run until Friday, May 24, 2013. Starts school release times, run until 6 p.m. and are available to children in grades 1-6. Trained recreation leaders will conduct daily activities that include sports & fitness, arts & crafts and nutritional education program. Registration is $55 a month or $544 for the year, scholarships are available. For more information or to register, please call 480-312-2313 or visit www.scottsdaleaz.gov/parks/asp.