Camelot's 11th annual open house and fundraising event
Celebrate like Kings and Queens at Hooves & Heroes!
SCOTTSDALE – Join us to help support Camelot Therapeutic Horsemanship, a no-fee organization that teaches horsemanship to children and adults who have physical disabilities.

The 11th annual Hooves & Heroes event is fun for the entire family; there's something for everyone! Dress in proper renaissance attire and receive a free raffle ticket!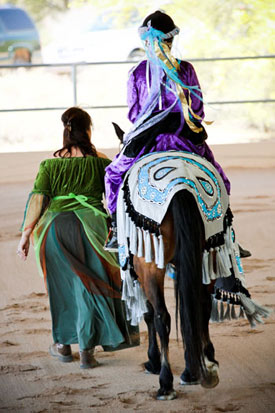 WHEN: Saturday, May 5 from 11 a.m.- 4:30 p.m.

WHAT: 11th Annual Hooves & Heroes Open House and Fundraiser-FREE ADMISSION
Silent auction and raffle
Wine tasting by Vino 100 – $20 a flight
Camelot student's riding performance
Performance by Scottsdale Police Mounted Unit
Musical entertainment
Kids' activities
Great food - $10 a plate for adults, $5 for children 12 and under
Massages and henna art
More!!

WHO: Camelot Therapeutic Horsemanship, a nonprofit organization, that specializes in serving children and adults who have physical disabilities; students learn riding, driving, grooming, training, vet care, and stable management. Camelot offers all services free of cost to riders.

WHERE: Camelot Therapeutic Horsemanship, 6250 E. Jomax Road, Scottsdale AZ 85266

This event is made possible through generous donations and the participation of Bruce Brown Catering, Vino 100, Scottsdale Mounted Police, American Fence Company, JJ's Delicatessen, Solutions Acupuncture & Naturopathic Medicine, Premier Designs and BioGreen Systems.

To learn more, visit us at www.camelotaz.org. Like us on Facebook.

Photo: Andrea, a Camelot rider, and Roseanne, a volunteer, during last year's Hooves & Heroes fundraising event. Photo by Kristyn Moore